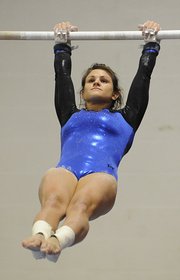 Free State High senior Drue Davis, still in the infant stages of returning from a shoulder injury that kept her out of portions of several early-season meets, took a huge step towards a complete return Monday night at Lawrence High.
Competing as one of three city gymnasts at the LHS All-Around Invitational, Davis cracked the top six in three of four events and finished fourth in the final all-around standings with 34.725 points.
Her best event — a stellar 9.275 in the floor routine — was also one of the best events of the night for fellow-Firebird Kelcy Bowers (sixth, 8.775) and LHS's lone competitor, senior Caitlin Haig (7.2).
Davis, displaying a mix of power and speed with style and finesse, was nearly flawless in the five components of her floor score: Difficulty, composition, event requirements, execution amplitude and bonus. Her leaps were loud, her style was sassy and her execution was spot-on.
"We just have fun on the floor," Davis said. "We don't really get nervous before we go out there."
That much was obvious, as Davis and Bowers bounced and bopped around the mat for the allotted minute-and-a-half of their floor exercises.
Both attributed their high-energy routines to the music chosen for their performances.
"The music we pick reflects us best," Davis said. "We kind of go for the swing music because that's real jumpy and I like to jump."
For Davis, adorned in a sparkly blue get-up, the music fit. For Bowers, who looked a little like a ninja warrior in her all black attire — ankle braces and wrist guards, leotard and ponytail holder — the smiles and grins simply added to the energy of her routine.
By contrast, LHS's Haig was all intensity and focus during her routine, in which she smiled just once — at the end.
"Part of that is because I know that if I don't focus I won't do as well," said Haig, ironically with a smile. "But I'm also just not a very bubbly person to be honest with you."
Added Bowers: "A lot of it really does depend on the music you pick. I like things that have set beats, huge drums and cymbals. Caitlin's music is much more serious and intense and matches her routine. I couldn't do a floor routine to a serious song."
Monday, there wasn't much any of the three couldn't do. Against the top all-around gymnasts from eight other schools, Davis, Bowers and Haig were strong at each rotation. From the vault and bars to the beam and floor, the trio gave everything they had with each twist and turn, leap and landing.
For Bowers and Davis, who each have finished near the top at every meet they've entered this year, they simply wouldn't have it any other way. For Haig, who, along with injured LHS senior Maria Carvajal, was honored as a part of Senior Night prior to the meet, the idea was to give one more strong showing in her home gym.
"It is pretty sad to know that this is the last time I'll compete here," Haig said. "I wish I would've done better and gone out with more of a bang. But it was a lot of fun and I still have time to improve."
Both squads will be back in action at Saturday's Newton Invitational.
Copyright 2018 The Lawrence Journal-World. All rights reserved. This material may not be published, broadcast, rewritten or redistributed. We strive to uphold our values for every story published.