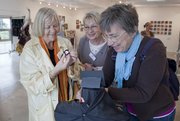 Twenty years have passed since Eutin, Germany, became Lawrence's sister city, and now a delegation of Eutin residents is here to celebrate the partnership.
"It is 20 years of celebration," Eutin delegate Martin Vollertsen said, "and we enjoy a wonderful prepared program. We are very happy to be here."
The 12 delegates toured several social service organizations on Thursday, including Van Go Mobile Arts. They will see Lawrence High School, Free State High School, and Bishop Seabury Academy today, and delegates will tour Tallgrass Prairie Reserve on Saturday.
Bill Keel, Lawrence's Sister City Advisory Board chair, praised the sisterhood's student exchange program for increasing international awareness.
"We grew up in the middle of the United States," Keel said, "and it's important for us to sort of get out of our own skins and to see how another people live."
Eutin, Germany, remembers the fall of the Berlin Wall in addition to its 20 years as Lawrence's sister city. The wall fell in November 1989, a week after Lawrence and Eutin became siblings. This adds more significance to the delegation's visit.
"We signed the sister city agreement at the end of October," Keel said. "About a week later, the Berlin Wall opened up, so we've had 20 years of both experiencing the friendships of Eutin but also watching Germany change as it takes on its eastern states from the former East Germany."
Lawrence is also a sister city to Hiratsuka, Japan. And there's a possibility the city might get a third. A delegation for Iniades, Greece, arrives in Lawrence later this month to see whether there is support for another sister city.
Copyright 2017 The Lawrence Journal-World. All rights reserved. This material may not be published, broadcast, rewritten or redistributed. We strive to uphold our values for every story published.