Festival of Trees viewing, auction times
Here are the viewing times for the Lawrence Festival of Trees at Liberty Hall, 644 Mass.:
• 10 a.m. to 8:30 p.m. today.
• 10 a.m. to 5 p.m. Tuesday.
Doors open for auction at 7 p.m., followed by the tree auction at 8 p.m.
• 10 a.m. to 8:30 p.m. Wednesday and Thursday.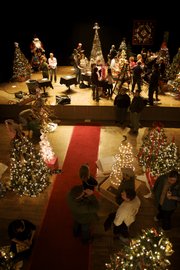 The 23rd annual Lawrence Festival of Trees, which kicks off Monday has become a Christmastime tradition.
"It is a great — at least in my mind — a great event that starts off the Christmas season here in town," said Judy Culley, who's been director of The Shelter since its incorporation in 1981. "It is a fundraiser for our agency, and so we feel very fortunate to be the folks getting some of the benefit from it."
The Shelter provides a wide range of services to help children in Kansas — it provides a temporary shelter for juveniles, and also offers foster care programs and juvenile offender services.
A total of 57 decorated Christmas trees have been donated, and they'll be auctioned to benefit The Shelter. Twelve wreaths have also been donated, and they will be placed on silent auction. People can view the decorations at Liberty Hall, 644 Mass., from today until Thursday.
Trees are made by local organizations, families and individuals. Each has a theme.
"We have everyone from the Girl Scouts to Treanor architects," Culley said.
That's really just the tip of the iceberg.
Members of the Free State Fly Fishers got involved with the festival several years ago. And it's all about giving back, said Jeff Frye, club president.
"It's one of the main things we do to keep us active in the community, and it's generally really fun," he said. ''This year's tree is probably more art than anything we've done in the past. It's going to be two birchwood spirals rotating. They're lit up with permanent lights."
For another local organization — Douglas County Visiting Nurses, Rehabilitation and Hospice Care — the festival offers staff members a chance to work together, much like a well-oiled machine. Medical records staffer Mitzie Gimlet takes the lead on design of the agency's tree, and works with occupational therapist Carolyn Hernandez to oversee the setup at Liberty Hall. Many other staffers volunteer time and money.
"It's wonderful for morale," said Judy Bellome, the agency's chief executive officer. "Though we mostly serve elderly, it's a way of serving another not-for-profit in the community."
There is a $2 admittance fee for adults to view the trees, but children can see them for free. Culley believes it's a nominal fee to benefit The Shelter.
On Tuesday night, the trees will be auctioned during a party that begins at 7 p.m. The actual auction, which is open to the public for a $25 fee, begins at 8 p.m. The Shelter's unsung hero — Bert Nash Community Mental Health Center — also will be recognized Tuesday night.
"They are very important to our work with children," Culley said.
Copyright 2018 The Lawrence Journal-World. All rights reserved. This material may not be published, broadcast, rewritten or redistributed. We strive to uphold our values for every story published.