On the street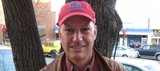 Honesty, integrity, spending constraint. We're all cutting back. The government needs to, too. I'm just tired of Washington spending like a bunch of drunken sailors.
It could be considered the equivalent of a political "free-for-all."
When six-term Democratic Congressman Dennis Moore last week announced he would not run for re-election, party leaders mentioned dozens of names as possible replacements.
His retirement has opened up the 3rd District congressional seat — which includes eastern Douglas, Wyandotte and Johnson counties — and The Cook Political Report even shifted it from a "likely Democratic" seat to a "toss-up."
After Moore's announcement, the potential Republican field attracted the most names last week, including former State Sen. Nick Jordan, R-Shawnee, who lost in 2008 by 16 points to Moore.
The district also went for Obama in 2008, especially because of high presidential election year turnout in Wyandotte and Douglas counties. "It's not a slam dunk for the Republicans," said Bob Beatty, a Washburn University associate political science professor.
But those likely in the GOP field say it will be a new ball game in 2010, especially in a midyear congressional election.
"That was kind of a wind we were running against. That was very difficult," Jordan said of the 2008 campaign with Obama on the presidential ballot.
The 2008 GOP nominee in the district saw some polling start to tip in his favor before Moore dropped out. Then last Monday when the incumbent announced he wouldn't run, Jordan said he was officially back in.
Jordan will also have more competition in a primary than he did in 2008.
Two Republican state legislators, Rep. Kevin Yoder, the House appropriations chairman, and Rep. Pat Colloton, who was chairwoman for John McCain's campaign in the district last year, have formed exploratory committees.
Before Moore's announcement, the four Republicans in the running were former state Rep. Patricia Lightner, Daniel Gilyeat, John Rysavy and Tom Scherer, of Merriam, who ran for the GOP nomination in 2006.
According to campaign finance records, Lightner, who served in the Kansas House from 1999 to 2004, had raised $26,510 from individuals in the race, the most among the three candidates.
"While I welcome any new competitors," Lightner said, "I think the voters will respond to a candidate who has been consistently campaigning on conservative principles for months."
Scherer, a writer, has campaigned on creating a heavy rail transport system.
"I think if the public will support it, it will unite us as a nation," he said.
Other potential Republican candidates could come forward in coming weeks.
The Democrats likely would have kept the seat if Moore didn't retire, pundits said. They still could keep it based on how successful moderates have been there, Beatty said.
Not as many Democratic names surfaced last week, but party leaders said Kansas City, Kan., Mayor Joe Reardon or state Sen. Tom Holland, D-Baldwin City, might be among the options.
"It has to be a moderate Democrat who is fiscally conservative, who pretty much votes the district," said Larry Gates, the Kansas Democratic Party chairman, who has a Johnson County law office.
Copyright 2018 The Lawrence Journal-World. All rights reserved. This material may not be published, broadcast, rewritten or redistributed. We strive to uphold our values for every story published.