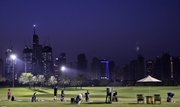 Washington — The Obama administration said Friday that it was monitoring developments in a looming debt default by the Persian Gulf emirate of Dubai, whose efforts to fend off creditors sent stocks skidding in the United States and around the globe amid fears of new bank losses.
The Dow Jones Industrial Average opened down by more than 200 points during Friday's abbreviated session, recovering slightly later in the day as analyst reports suggested that U.S. banks had little exposure to Dubai, one of seven sheikdoms that compose the United Arab Emirates.
Around the world, fears focused on the danger that a massive debt default by Dubai could trigger similar defaults elsewhere. Such defaults in Mexico, Russia and Argentina over the past two decades proved contagious.
"The Treasury Department is monitoring the situation," said a White House official, who spoke only on the condition of anonymity because she wasn't authorized to talk about the issue for publication.
The Obama administration and U.S. financial analysts aren't greatly worried about exposure to Dubai; Citibank is the only U.S. financial firm that has any significant exposure. Citibank, which is still living on taxpayer support, has about $5.8 billion in loans, deposits or assets tied up in Dubai, according to Barclays Capital, a global investment firm based in Britain.
Citi's activities in Dubai pale in comparison with those of two London-based international banks, HSBC, with $28.5 billion, and Standard Chartered, with $19.3 billion.
Middle Eastern banks have the greatest exposure to Dubai, and foreign banks, mostly European, account for about $90 billion, or 22 percent, of the $413 billion in banking assets in Dubai.
A small geographic area but one with enormous oil wealth, Dubai became a global magnet for investment in recent years as oil prices soared. It pumped money into creating a list of "biggests." Dubai has boasted that it has created or is creating the world's tallest building and the world's biggest shopping zone, theme park, airport, artificial islands and horse track.
The Dow closed off 154.48 points Friday to 10,309.92 on fears that Dubai's problems could spread.
Copyright 2018 The Lawrence Journal-World. All rights reserved. This material may not be published, broadcast, rewritten or redistributed. We strive to uphold our values for every story published.