In a tradition that has been celebrated in downtown Lawrence for nearly 40 years, the holiday lights came on and Santa Claus himself made an appearance to meet with area children.
The jolly old elf arrived on the roof of Weaver's Department Store, 901 Mass., and was rescued by Lawrence-Douglas County Fire Medical personnel.
"We love Lawrence this time of year," said Dana Landes, who has been attending the event for years. "Lawrence is a great place to raise a family."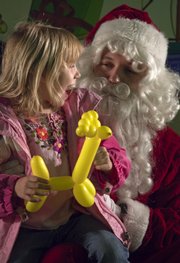 Hundreds of people awaited Santa's arrival at the corner of Ninth and Massachusetts streets Friday night, with holiday spirit filling the relatively warm air.
Children had their wish lists ready as Santa made his way to a stage on the southeast corner of the intersection.
"I want a new Super Mario Brothers DS and 'Sonic the Hedgehog Archive Volume 6,' the book," Raef Landes said.
While children were clear about what they wanted under the tree from Santa on Dec. 25, their parents were celebrating a fun, safe and longstanding tradition in Lawrence.
"It's a great holiday tradition with Thanksgiving, then come out and see Santa, get the Christmas decorations up, see the lights; we enjoy it," Kirsten Derby said.
Copyright 2018 The Lawrence Journal-World. All rights reserved. This material may not be published, broadcast, rewritten or redistributed. We strive to uphold our values for every story published.