Sean O'Neal had spent 11 hours in line outside Best Buy, 2020 W. 31st St., by the time the store opened its doors at 5 a.m. on Black Friday.
Hot chocolate and blankets were his comfort as temperatures hovered around 30 degrees. Within hours, hundreds of people had joined him and his wife, Melissa, in the line, which snaked back into the alley.
The campout was worth it.
"The fact that I love my kids and I'd do anything for them, really," said O'Neal, a Lawrence Paper Co. employee, on why he made the all-night effort. "I know I will end up saving about $600 worth of purchases I'm making today."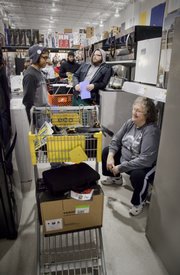 O'Neal was looking to purchase an XBox 360 with video games and some laptop computers for his three sons.
On what is traditionally the busiest shopping day of the year, retailers were able to lure early-bird customers in full force with a variety of deals. Long lines formed at several department stores on Iowa Street as they opened before the sun rose.
Kira Alexander, 15, and her mother, Cheryl Alexander, were in line at Kohl's Department Store, 3240 Iowa, at 2:45 a.m., 75 minutes before the doors opened. The Alexanders were also second in line at the store for the second year in a row.
"It's good to get the Christmas shopping done early, and if you come later it's usually not there," said Kira, a Southwest Junior High School student.
Many of the early-morning shoppers knew the drill. They had elaborate strategies on how to get in, make their purchases and get out within minutes.
Jeremy Davis, of Manhattan, woke up at 3 a.m. He and his girlfriend made it to Kohl's. She was in line at 3:15 a.m., but he waited in the car until just before the doors opened at 4 a.m.
Once inside, he scored an Oneida dinnerware set for his parents for $39, which was down from $119.
"I consider that a good deal," Davis said.
Richard Gould, an Air Force sergeant visiting from Oklahoma City, immediately got into the checkout line at Kohl's to save a spot while his wife shopped for toys for their daughter.
It's a strategy they developed over time.
"In the past, it seems to have worked," Gould said.
They were out of the store 20 minutes after it opened.
Other shoppers were experiencing the shopping frenzy for the first time. Jorica Rapada, a Lawrence High School senior, went to Walmart earlier before she returned to Best Buy and got into the line of hundreds of people.
"It's a feeling like you've made an accomplishment when you got to the door," Rapada said.
She bought a Garmin global positioning system for her parents for $99. Otherwise, it would have cost her $200.
O'Neal, the second person in the Best Buy line after braving the cold for 11 hours, said he would probably do it again next year.
"We had blankets and hot chocolate all night long," he said. "It was better than I thought it would be. For being as cold as it was, it was not too bad."
Copyright 2018 The Lawrence Journal-World. All rights reserved. This material may not be published, broadcast, rewritten or redistributed. We strive to uphold our values for every story published.