Black Friday shopping updates, via Twitter
On the street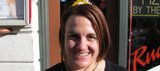 Yes, because it's fun and I do it with my girl friends and my sisters.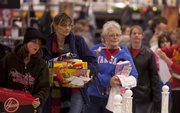 9:10 a.m. Many shoppers who were waiting outside Lawrence stores in the dark this morning seemed to be Black Friday pros.
They were clutching newspaper inserts from the store and discussing which deals they could find among their friends and family as they waited for the doors to open.
Once they made it inside, they were executing their own strategies.
Jeremy Davis, of Manhattan, woke up at 3 a.m. He and his girlfriend made it to Kohl's. She hopped in line at 3:15 a.m., but he waited in the car until just before the doors opened.
Once inside, he scored an Oneida dinnerware set for his parents for $39, which was down from $119.
"I consider that a good deal," Davis said.
Richard Gould, an Air Force sergeant visiting from Oklahoma City, immediately got into the checkout line at Kohl's to save a spot while his wife shopped for toys for their daughter.
It's a plan they developed over time.
"In the past, it seems to have worked," Gould said.
They were out of the store 20 minutes after it opened.
7:59 a.m.
Kira Alexander, 15, and her mother, Cheryl Alexander, were in line at Kohl's, 3240 Iowa, at 2:45 a.m.
They were in front of hundreds of people in the Black Friday crowd who made it into line at the department store before the doors opened at 4 a.m. The Alexanders were also second in line at the store for the second year in a row, she said.
"It's good to get the Christmas shopping done early, and if you come later, it's usually not there," said Kira, a Southwest Junior High School student.
The earlier start of our Black Friday blog:
Shoppers stood in line and sat in their cars for up to five hours before stores opened hoping to nab a Black Friday deal or two. Sears, J.C. Penney and Kohl's opened their doors at 4 a.m., while Best Buy, Target and Wal-Mart started their specials at 5 a.m. Here's what people were looking for:
Sears, 3:37 a.m. - Appx. 50 people in line
The main draw at Sears was a washer and dryer set that had limited availability, according to shoppers in line. Tickets claiming those were given out at 3 p.m. Thursday and were quickly gone, as posted outside the store doors.
Ameere Hadi
Time in line: 3 a.m.
Shopping for: GPS navigation system on sale for $89.99, which is normally around $160, she said. She was also going to pick up a pair of Sony earphones for $4.99, marked down from $10.
Marty and Lauri Chicoine
Time in line: 11:30 p.m. Thursday. They sat in their car until a little after 3 a.m. Friday
Shopping for: 32" Sony Bravia TV for half the original price.
J.C. Penney, 3:40 a.m. - Appx. 12 people in line, another dozen in their cars
Mike Clover, Lawrence
Time in line: 12:30 a.m.
Shopping for: Mike was first in line for the free snow globe that J.C. Penney gives away each year. He said the globes are collecting items and he's been collecting them for 11 years.
Ashleigh Lottinville, Tulsa, Okla./Free State High School
Time in line: Around 11:30 p.m. Thursday
Shopping for: Clothes
Kohl's 3:48 a.m. - Appx. 100 people in line
Wes Vanderbilt, Lawrence
Time in line: 2:35 a.m.
Shopping for: A kitchen knife set on sale for $40 which is originally $140. Wes said he arrived too late for the deal last year, so his wife sent him extra early this time around (he was first in line). He looked forward to no longer using their dull knives.
Cheryl Alexander, Lawrence
Time in line: 2:40 a.m.
Shopping for: Aprons on sale for $5.99, originally $17.00
Wal-Mart, 4 a.m.
Because the store is open 24-hours, some sections were roped off to customers, who made lines behind the items they were there for. Joe Brown, Lawrence, and Linda Scribner, Eudora, were in the front of the line for the Rock Band video game set that was on sale for $50, normally $100. They both arrived by 2:30 a.m. Scribner also aimed to pick up an XBox 360. There were about 10 people in line for a printer and laptop as well.
Best Buy, 4:11 a.m. - Appx. 150 people, 250 by 4:45
Thomas Pierce, El Dorado, Kan.
Time in line: Thomas' 1:15 a.m. arrival time put him near the middle of the pack.
Shopping for: Sony laptop package, $499. His sister laid claim to a similar laptop with a few less features for $399.
Dilshan Dabarera, Sri Lanka, KU student
Time in line: Midnight Friday. He was the very first person)
Shopping for: Sony laptop for $399, originally $650
Shehan Fernando, Sri Lanka, KU student
Time in line: Midnight Friday. He was there with Dabarera and the second person in line.
Shopping for: Sony laptop for $399, originally $650. Shehan was also there to grab a Dynex digital picture frame for around $20, which is normally $79.
Target, 4:20 a.m. - Appx. 200 people
Cory Deedrick, Topeka
Time in line: Cory got in line at 11 p.m. and came from Topeka to beat the longer lines he thought he'd find there. The drive paid off, as he was the first in line.
Shopping for: 32" Westinghouse HD TV on sale for $246, originally $430. The two shoppers behind Cory were there for the same deal, if not the 40" version.
Dillon Litherland, Eudora
Time in line: 4 a.m. put him about 100 people back.
Shopping for: Nintendo DS gaming system for $99, originally $150, and a gaming chair.
Copyright 2018 The Lawrence Journal-World. All rights reserved. This material may not be published, broadcast, rewritten or redistributed. We strive to uphold our values for every story published.