On the street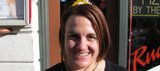 Yes, because it's fun and I do it with my girl friends and my sisters.
Black Friday shopping updates, via Twitter
By the time newspapers land on doorsteps Friday, lines already will have formed outside the rows of big box stores along South Iowa Street as shoppers waited for doors to open to the best deals of the year.
And by the time you've woken up from Thursday's turkey coma, hundreds of local shoppers likely will have already purchased flat-screen televisions, video game systems and winter coats.
Goodbye Thanksgiving. Hello holiday shopping.
The average American will spend $682.74 on holiday shopping this year, about $22 less than the amount spent last season, according to a survey from the National Retail Federation.
The NRF had predicted holiday retail sales would decline by 1 percent this year. Though at $437.6 billion, it's still a massive number.
It's that kind of market forecast that has brought out aggressive deals for Black Friday and the rest of season.
Doors opened at 5 a.m. today at Super Target, 3201 Iowa. It was a first for the retailer, which was looking for a way to keep up with other nearby national chain stores like Walmart and Best Buy that also opened at 5 a.m.
"We are vying for position this time of day to get that almighty consumer dollar," assistant manager Dennis Long said. "It gives a little more shopping time for guests. It makes it easier."
Coming into Thanksgiving Day, sales in groceries, toys and domestics have been good at the store, he said.
Joe Flannery, president of Weaver's Department Store downtown, has seen people buying holiday gifts since October. Based on sales from the past two months, he expects the 152-year-old department store to do better than it did last holiday season.
Across the board, retailers are carrying less inventory than they did last year. NRF found that traffic to the nation's ports has dropped to levels not seen since 2003.
"Retailers went into the fourth quarter being more cautious because business has generally been tougher," Flannery said. "Generally, I think people expect this year to be more challenging."
Less inventory could mean fewer late-season sales and a skimpy selection for people who like to procrastinate.
"Unlike years past where the prices were dropped closer to Christmas, if you see what you want and know what you want, go ahead and get it. Because it probably won't be around the week before Christmas," Flannery said.
Buying presents before the rush — or throughout the year — is a great way to fit holiday shopping into your budget, said Robert Baker, director of education for Housing and Credit Counseling Inc.
This would be the year to be a comparative shopper. Baker advises consumers to take stores up on their offer to match the lowest price in town. And if shoppers find a better deal — even after they purchased the product — let the store know.
"Maybe you'll save a few bucks," he said.
He also said this is a good year to shop online. It's a way to save on time, and a lot of sites are offering free gift wrapping and shipping.
According to the NRF, four out of five online retailers said they would offer free shipping at some point during the season for consumers who spend more than a certain amount.
As for how small local stores will weather another year of drab holiday spending predictions, downtown retailers remain optimistic, said Jane Pennington, director of Downtown Lawrence Inc.
"We have such unique shops. I think we will be in good shape," Pennington said. "People will come here to look for a really special gift and hopefully do the rest of their shopping."
Tips to save on holiday shopping: Make own gifts, offer services
This year the average American is expected to dish out $683 over the holidays, spending the vast majority on gifts. With almost everyone keeping a close eye on their dollars during the recession, Robert Baker, director of education for Housing and Credit Counseling Inc., has some tips on how to give gifts that cost less and mean more:
• For large families or groups of friends, Baker recommends pulling names from a hat or doing a gift exchange, instead of buying for everyone. And he suggests setting a limit on how much the gift should cost.
• Try not to get caught in the cycle of spending more on everyone if you just spent more than you should for one person on the list. Especially when children are involved, people have a tendency to want to balance out the amount of gift giving. But Baker said it is a mindset that quickly leads to going over budget.
• Offer your talents. Baker asks what parent wouldn't be thrilled to have an IOU for a night of baby-sitting. And who wouldn't want help mowing the lawn or painting the house.
• Make your own gifts. Baker has a slew of great homemade gift ideas: a book of the family's favorite recipes, a personalized CD or playlist, and a photo album of Lawrence's murals or sculptures.
Copyright 2018 The Lawrence Journal-World. All rights reserved. This material may not be published, broadcast, rewritten or redistributed. We strive to uphold our values for every story published.