On the street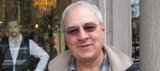 More brass plaques at historic sites that tell the story.
Kansas University students are scheduled to present their ideas for new marketing plans for the Freedom's Frontier National Heritage Area next month.
The presentations mark the culmination of a semester of work by more than 30 students, divided into five groups.
The students are enrolled in a Strategic Campaigns class taught by David Guth, associate professor of journalism.
The students will present their plans to raise residents' and visitors' awareness of the Freedom's Frontier National Heritage Area at 6:45 p.m. Dec. 8 in the Big 12 Room of the Kansas Union.
The Freedom's Frontier National Heritage Area consists of 41 counties in western Missouri and eastern Kansas, including Lawrence, is an effort to steward the cultural landscape and stories about the struggle over freedom on the frontier.
The area is headquartered in Lawrence.
Copyright 2018 The Lawrence Journal-World. All rights reserved. This material may not be published, broadcast, rewritten or redistributed. We strive to uphold our values for every story published.