Topeka — Gov. Mark Parkinson on Monday announced another round of budget cuts that will likely result in more state employee layoffs, unpaid furloughs, crowded classrooms and reduced social services.
"The cuts we are making now are to basic services," Parkinson said of his $259 million in budget adjustments.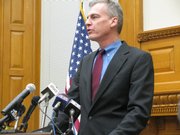 The governor, presiding over the worst revenue dropoff in state history, apologized to those who would be affected by the cuts, and urged Kansans who were doing well "to dig deep" and contribute to churches and charities.
Parkinson refused to say whether he would push for a tax increase in the 2010 legislative session, which starts in January.
Related document

Gov. Parkinson's Budget Cuts ( .PDF )
The cuts were made to balance the current fiscal year budget and represent the fifth round of cuts since the state fell into a recession.
Here are some of the cuts:
-- $36 million to public schools, and not recommending a $156 million increase to take care of increased school costs;
-- $2 million to higher education;
-- 10 percent on Medicaid reimbursements;
-- $50 million in highway maintenance funds;
-- $5 million transfer of state general funds to Bioscience Authority.
Parkinson's plan also shifts $85.9 million in federal stimulus funds from the next fiscal year to current one, which will increase the budget hole next year.
2:53 p.m.
State Board of Education member Walt Chappell today outlined a proposal that he said would make schools run more efficiently and reduce costs.
Those include requiring that parents and sports boosters pay for the extra costs of sports activities, consolidating the 296 school districts into 40 regional districts, requiring teachers to spend at least 8 hours per day in the school building, and removing restrictions on how schools can spend monies from special accounts.
Chappell, D-Wichita, told the House Appropriations Committee that the proposals were his and not those of the State Board of Education. The committee took testimony in light of a worsening state budget crisis because of a drop in tax revenue.
State Rep. Barbara Ballard, D-Lawrence, took issue with Chappell's implication that teachers weren't working 8 hours per day.
As a former member of the Lawrence school board, Ballard said she knew first-hand that teachers were working hard and that student achievement was increasing because of that.
"It is a little presumptuous of you to say they are not spending 8 hours or more," she told Chappell.
But Chappell said he knows of schools were the children get out of school at 3:10 p.m. and by 3:20 p.m. "you can hear a pin drop in that school."
Other committee members had problems with some of Chappell's other proposals. Rural lawmakers said they were concerned how far students would have to travel under massive consolidation and building closures.
Copyright 2018 The Lawrence Journal-World. All rights reserved. This material may not be published, broadcast, rewritten or redistributed. We strive to uphold our values for every story published.