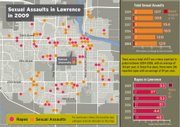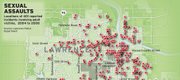 In the past five years, more than 450 adult sexual assaults have been reported in Lawrence. There's a rape in Lawrence every four days. Each case represents an instance where someone's life has been irrevocably changed. LJWorld.com, the Lawrence Journal-World and 6News are taking a deeper look at what those numbers really mean.
Rapes reported to police in Lawrence have reached a six-year high in just the first nine months of 2009, rising from 37 in 2008 to 53 so far this year, according to information obtained by the Journal-World through a public records request.
Information about the frequency and location of sexual assaults in Lawrence this year was combined with data gathered during a series of articles about sexual assaults earlier this year. The data provide a look at sexual assault trends in Lawrence.
In addition to the increase in reported rapes, an examination of the data found that, through the first nine months of 2009:
• The 107 total sexual assaults in Lawrence are on pace to surpass last year's total of 108, but are in line with the five-year average of 134 per year between 2004 and 2008.
• The 53 reported rapes matched a six-year high of 53 reported in 2007. Reported rapes averaged 47 per year from 2004 to 2008.
• Sexual assaults are reported throughout Lawrence, but several clusters of cases emerge from the mapped data, including 20 percent of reports coming from the downtown area, and from north and east of Kansas University.
About the project
A public records request to the Lawrence Police Department asked for the date, time, and block location of all sexual assaults reported to police from Jan. 1, 2009 to Sept. 30, 2009. Information was not available on whether the victim and assailant knew each other.
Here's a breakdown on how many sexual assaults were reported during the first nine months of this year:
• Rape - 53
• Sexual battery and aggravated sexual battery - 21
• Aggravated indecent liberties with a child and indecent liberties with a child - 16
• Aggravated criminal sodomy and criminal sodomy - 9
• Unlawful voluntary sexual relations - 4
• Sexual exploitation of a child - 2
• Aggravated indecent solicitation of a child - 2
Hard to draw conclusions
But are the data really an indicator that rapes are increasing in Lawrence? And do the numbers of reported sex crimes really provide an accurate picture of trends in a community?
"The problem with these numbers is that it's hard to make any conclusions," said Douglas County District Attorney Charles Branson.
Callie Rennison, a criminal justice professor at University of Missouri-St. Louis, said the numbers can be skewed by myriad factors. Increases could be attributable to more reporting of sex crimes to police and not an increase in actual occurrence, she said.
"I think the numbers are important. I would just caution people from looking at what is reported to the police and concluding that there is an 'epidemic' or huge increase in rape," she said.
Rennison also said that it takes years to see whether such crimes are really becoming more frequent in a community.
"It remains to be seen whether this is a 'trend' of increasing rape or just a blip," Rennison said. "Only time can tell us that."
Increases in reports can occur when there an emphasis by authorities to report sex crimes more often, she said. But Branson said his office has not done anything differently in that area in 2009.
"We don't really see any correlation why reports are up," he said.
Sarah Jane Russell, director of the Lawrence-area sexual assault services agency GaDuGi, said an increases in sexual assault reports to police could mean that people in the community are feeling more comfortable opening up about being victims.
"There's a positive to this," she said. "(Victims know) there is support if this happens to you."
Copyright 2018 The Lawrence Journal-World. All rights reserved. This material may not be published, broadcast, rewritten or redistributed. We strive to uphold our values for every story published.