Kansas University's new chancellor has spent her first few months in office traveling the state and country, meeting with key players and getting to know her way around in a new setting.
Today marks the 100th day of Kansas University Chancellor Bernadette Gray-Little's tenure atop Mount Oread. A historic selection for KU — Gray-Little is the only black female university chief executive among the 120 large schools that field top-level football teams — the new chancellor says she's enjoyed her time so far.
Related document

Chancellor Gray-Little itinerary, Aug. 15-Oct. 28 2009 ( .PDF )
"It's certainly been very busy," she said. "It's been a whirlwind."
After the Journal-World filed an open records request, KU released Gray-Little's appointment calendar through Oct. 28, the date the request was made.
The university redacted some entries, citing provisions in the law allowing for personal privacy, personnel issues and matters pertaining to rules of evidence.
Still, the bulk of the calendar was released, and it shows a chancellor on the move, both inside and outside Kansas.
She spends one full day a week — usually Tuesday — at the KU Medical Center in Kansas City, Kan.
The calendar is detailed, often providing specific wardrobe choices and the scores of KU football games.
A chancellor on the move
Gray-Little has visited 13 Kansas cities, from large cities such as Wichita and Topeka to the smaller towns of Liberal and Ulysses.
Everywhere she goes, she said, she finds an enthusiasm for KU and a desire to get qualified young professionals back in their communities — particularly engineers and health care professionals — accompanied by an open friendliness that has made it easy for her to acclimate herself to the surroundings.
She's also gone on trips to Dallas, Houston, Washington, D.C., and Chicago, where she met with KU donors and legislative leaders. According to her calendar, the chancellor has had appointments with major KU benefactors Dana Anderson, Forrest Hoglund and Jack Dicus, among others.
Dale Seuferling, president of the KU Endowment Association, often accompanied the chancellor on the trips and said she has been well-received by donors.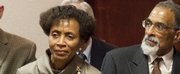 Look back at the process that led Kansas University hire Bernadette Gray-Little as its 17th chancellor.
"We've made the best use of her calendar and her time," he said. "We'll go into a city and have a small lunch with a small group of people and donors, and then individual meetings with two or three donors per day."
He said Gray-Little — a trained academic psychologist — has been very good at listening to donors and understanding where their interests in the university lie, and streamlining those with her own goals and initiatives.
She has also participated in a conference of the Association of American Universities in Montreal, according to the calendar.
Three top priorities
There have also been a slew of speaking engagements, where she often repeats her three initial priorities for KU — increasing graduation and retention rates; raising the level of scholarly research; and increasing the amount of private money KU raises. She's established three task forces to look at those issues, one on retention and graduation, one on admissions standards and another on research activity.
"Obviously, I'm not the first person to have pointed these things out," she said, saying she's reviewed previous reports done at KU on those issues. "They're fundamental to what we do."
She's repeated them so often, she said people are beginning to introduce her three goals before she even gets up to speak.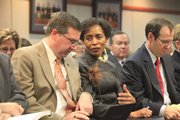 "That's good," she said, saying the more they enter people's consciousness, the better off the university community will be.
A fresh personality
Those who have met with KU's new chancellor describe her as professional, focused, attentive and reserved, and say one of her key strengths is listening to what people have to say.
Gray-Little chafed slightly at being called "reserved."
"I'm not sure if I'm reserved," she said. "Sometimes I'm reserved, and sometimes I'm not. I probably would never describe myself like that."
Yet she's aware that people have described her that way.
"Maybe they prefer Shade's style," she said, smiling, referring to her husband, known for his jovial personality.
There have been a few occasions when Gray-Little has shown a different side of her personality.
Victor Wallace, a retired professor of electrical engineering and computer science, is president of the KU Endacott Society, a group of KU retirees. He said Gray-Little visited the group's October meeting and somewhat spontaneously burst into a unique kind of birthday song honoring the October birthdays among the group.
"I thought it was charming the way she did it," Wallace said. "It came as a complete surprise."
He said the chancellor was a "breath of fresh air" for KU's administration, adding that the group was also impressed with the way she stayed long enough to talk to every one of the members who had lined up wanting to speak to her.
Mason Heilman, student body president, offered another adjective.
"Dignified would be the first word that would come to mind," said Heilman, who meets monthly with the chancellor along with May Davis, student body vice president.
Heilman praised the chancellor's willingness to listen to new ideas and her willingness to adapt to how things are done at KU, which he said are occasionally different than the University of North Carolina, where Gray-Little spent the entirety of her previous academic career.
"Nothing's more frustrating than an administrator saying 'absolutely not' when she doesn't know how things are done in a new environment," Heilman said.
Not all roses
The new chancellor has faced challenges, too. Most recent and most notable is an internal review of head football coach Mark Mangino that's under way. She publicly got involved Friday, issuing a statement debunking a media report that alleged that Athletic Director Lew Perkins also was being investigated.
Gray-Little, who did not comment on the substance of the football coach's review, said she had been consulted before the process began.
"I expected it to get coverage locally and regionally," she said.
The level of national media play had surprised her, but she said she took it as a sign that the athletic program was well-known and important nationally.
Another of Gray-Little's immediate issues she's needed to face has been vacancies in two top academic leadership positions at KU — the provost and the dean of the College of Liberal Arts and Sciences. Gray-Little has formed search committees that are conducting national searches.
Mabel Rice, a university distinguished professor of speech-language-hearing, is the chairwoman of the provost's search committee. She said Gray-Little was clear in her direction to the committee, and then backed off to let the committee work.
"It sets up a really nice professional tone for how things are going to proceed," Rice said.
The committee is currently reviewing applications and will winnow the field to a short list of finalists who will visit the KU campus, Rice said. Gray-Little said she's hoping for interviews by February.
Getting installed
Gray-Little has traveled to the installation ceremonies of both of the other new major university presidents in Kansas — Kansas State's Kirk Schulz and Pittsburg State's Steve Scott.
Her own installation ceremony is scheduled for Sunday, April 11, at the Lied Center, and is scheduled to include Jill Docking, president of the Kansas Board of Regents, Gov. Mark Parkinson and participants from other major universities, said Kathleen McCluskey-Fawcett, who is planning the ceremony.
One aspect of the weekend will include a day of service, during which people across the state and beyond can dedicate service projects to the new chancellor, McCluskey-Fawcett said, with specific projects scheduled for Lawrence and at KU Medical Center.
Looking forward to her next 100 days and beyond, Gray-Little said she's eager to hear the recommendations of her first few task forces on her three main goals, but realizes there may be difficult times ahead, particularly as state revenues continue to shrink.
One of her tasks will be to continue to sell the benefits of funding higher education in Kansas to federal and state legislators. She says KU impacts the state's economy and health of its people — things every legislator is usually concerned with — and has an impact on the environment, too.
"All of these things are tied in very closely with education," she said.
Copyright 2018 The Lawrence Journal-World. All rights reserved. This material may not be published, broadcast, rewritten or redistributed. We strive to uphold our values for every story published.