Photo Gallery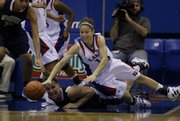 KU women's basketball vs. Oral Roberts
Score 106 points, good for you. Give up 80 points, however, and …
"I could have said what she was going to say before she said it," Danielle McCray remarked.
McCray was referring to Kansas University coach Bonnie Henrickson's postgame reaction following the Jayhawks' season-opening 106-80 victory over Oral Roberts on Sunday in Allen Fieldhouse.
"I've been around for four years now, and I knew we were going to get chewed," McCray said.
Sade Morris, another senior, knew what was upcoming, as well.
"Me and Dee knew she would be upset," Morris said. "Voelker gets 29, and we can't let that happen."
ORU's Janae Voelker, a senior from Newton, did indeed score 29 points, and Henrickson, as expected, wasn't happy about it.
"The Voelker kid made that her Senior Night in Allen Fieldhouse," the KU coach said, "and I'm disappointed in that."
Henrickson wasn't blaming McCray or Morris, however. She singled out sophomore Aishah Sutherland, who scored a career-high 24 points, grabbed eight rebounds and blocked three shots.
"Aishah made plays, she rebounded, and she blocked shots," Henrickson said. "Our whole message before the game was Aishah and the Voelker kid. We thought that was a good match-up, but Aishah didn't respond.
"We just need some more from her on the defensive end because she's capable of so much more."
Then again, those who watched Sunday's high-scoring affair may have felt Henrickson was being a tad picky, and, in retrospect, she conceded she might have been.
"I was just so mad defensively that I did not enjoy the offense," Henrickson said. "Maybe when I watch the film tonight I will fast-forward through the defense and just watch the offense to feel better about it."
Oral Roberts came to town with 11 underclassmen on its 14-player roster, but most of those underclassmen — notably freshman Kevi Luper, who scored 24 points — and the three upperclassmen — notably Voelker — played relentlessly, even when they fell far, far behind.
KU's size was insurmountable, but the Golden Eagles' motors just kept running and running.
"We're a young outfit with a bright future," ORU coach Jerry Finkbeiner said. "We want to score a hundred, and we want to see if our opponents can score a hundred. That's our style, that's our brand."
It's not Henrickson's style, of course, but the KU coach figures Finkbeiner's philosophy will stand up in the Summit League, where the Golden Eagles were tapped for fourth in the preseason coaches poll.
"That's a gross underestimate for them to be fourth," Henrickson said.
Not to be underestimated, either, was McCray's overall performance. KU's preseason All-America candidate led the Jayhawks with 27 points and 11 rebounds and shared the team-high in assists with Angel Goodrich. Both had seven.
Incidentally, McCray and Voelker had met once before. That was at the 2006 state high school track meet in Wichita, and it was in the shot put. Voelker may have outscored McCray by two points Sunday, but McCray won the gold medal in the shot that spring.
Kansas (1-0) will travel to Iowa on Wednesday, then entertain Michigan next Sunday.
Notes:
• In scoring 64 points in the first half, the Jayhawks compiled more points than they did in 11 full games last season. The school record for points in a half is 71.
• Coincidentally, Kansas also scored 106 points in last year's opener against Sacred Heart. But the Jayhawks surrendered just 64 points in that one.
• Kansas was credited with 18 second-chance points. ORU had none.
Copyright 2018 The Lawrence Journal-World. All rights reserved. This material may not be published, broadcast, rewritten or redistributed. We strive to uphold our values for every story published.