Photo Gallery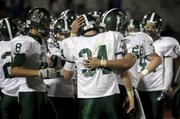 Free State football 28, Olathe North 42
Olathe — Aching for his team and searching for a way to communicate how proud he was of the way his guys fought, Free State High coach Bob Lisher took time to congratulate Olathe North's James Franklin and Victor Simmons.
Moments later, as Free State quarterback Camren Torneden was being consoled by family members, Olathe North coach Pete Flood jumped in and told Torneden how impressed he was by his ability.
Total respect. Total effort. Total joy for one team and heartbreak for another.
That was the story from Friday's quarterfinal football game at Olathe District Activity Center, where Olathe North outslugged Free State, 41-28, to advance in the Class 6A state playoffs.
"I can't say enough about how proud I am of this football team," Lisher said. "Our guys fought hard. They went to the last second trying to pull this game out. We battled the entire way. We just ran out of weapons."
The first half was a feeling-out process for both teams. After Olathe North scored on the opening drive to take a 7-0 lead, Free State answered on its third possession, when Torneden hit Keene Niemack with an 11-yard touchdown pass to tie the game at 7.
In all, Torneden threw three touchdowns and ran for another to keep the Firebirds in it the entire way. Most of those big plays came during a second half that was lit up by fireworks from both teams.
In the end, though, the Eagles' 1-2 punch of Franklin and Simmons — who combined for 405 yards on 60 carries — proved to be too much for Free State to overcome. Of the 62 plays the O-North offense ran, all but two were runs from Franklin or Simmons. The two that weren't? Tre Walker carried the ball on both of those and scored a touchdown each time.
The Firebirds played the Eagles closer than any team had all season. And not just on the scoreboard.
"That's just two heavyweight football teams going at each other nose-to-nose," Lisher said. "They made some plays, we made some plays. They just made a few more."
Added Niemack, who felt the burden of having to try to stop the Eagles' ground game: "We knew we were coming into a dogfight. We knew they were going to be good. It was just a matter of who outplayed who, and they came out on top. There's not much more you can say about it."
Except that there was.
After trailing 14-7 at the break, the Firebirds quickly tied the game at 14 on their first drive of the second half. Torneden accounted for 79 yards on the 80-yard march — 50 on the ground and 29 more through the air — and junior tailback Matt Cole plunged in from a yard out to tie it.
The Eagles answered, though, when Franklin tallied one of two long TD runs on the night (31 yards) to put O-North back ahead by seven. The two sides traded turnovers on the next two possessions, and the Eagles went up by two scores, 28-14, on the first of Walker's two touchdown runs with 11:55 to play in the fourth.
Still, the Firebirds fought. Three-and-out the next drive put the FSHS defense back on the field, but this time it responded, forcing Olathe North into a three-and-out and then stopping a fake punt inside Eagles' territory. Six plays later, Torneden found Aundre Allen (two TDs and 69 yards receiving) in the end zone on a fourth-and-six on a play that summed up the way the Firebirds battled all night. With defenders clawing at his jersey, Torneden found a way to get the pass off. Despite being flanked tightly by two Eagles defenders, Allen caught the ball just inside the goal line to bring the Firebirds within a single score.
"Our receivers stepped up big-time," said Torneden, who finished 14-for-30 for 180 yards, all season-highs. "Coach told me to tell them that we just need to make plays, and I put the ball out there, and they went after it."
Franklin scored from 60 yards out four plays later, but again Free State fought back, scoring on another TD pass from Torneden to Allen with 4:09 to play. From there, the Firebirds attempted a quick onside kick that caught the Eagles offguard. Despite Niemack, Connor Stremel and Dylan Perry outnumbering North's Brandon Davis around the high-bouncing ball, Davis pulled it down. Seven plays later, Walker dove in from a yard out to ice the game.
"If we recover that onside kick, maybe we go down and score, and maybe it changes the outcome," Lisher said. "But we didn't. Those are the breaks of the game. It was close, though. I thought we were going to get it."
The loss ended the Firebirds' season at 8-3. Olathe North (11-0) will take on Blue Valley in the semifinals next week.
There's a good chance that one won't pose quite as tough a test as the Eagles saw Friday, though.
"We're fighters," Torneden said. "We're not going to sit there and roll over. We came here to play football, and that's what we did. We just came up short."
Added Allen: "I'm just going to remember us not giving up. We all had that desire to get it done, and we didn't quit. I'm proud of that."
Copyright 2018 The Lawrence Journal-World. All rights reserved. This material may not be published, broadcast, rewritten or redistributed. We strive to uphold our values for every story published.