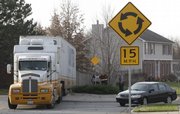 A mover's truck had to be towed Friday morning after getting stuck in a
roundabout at Harvard Road and Moundridge Drive, just east of Wakarusa
Drive.
Lawrence police said damage was reported to the roundabout and the Kansas
Highway Patrol was dispatched to inspect the United Van Lines truck, but no
ticket was issued to the driver.
A spokesman for the truck line said the situation was "awkward" for the
driver, who was headed to make a residential delivery. The driver was able
to complete the delivery, but the spokesman would not identify the location.
Copyright 2017 The Lawrence Journal-World. All rights reserved. This material may not be published, broadcast, rewritten or redistributed. We strive to uphold our values for every story published.