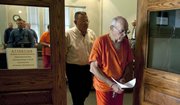 LEXINGTON, MO. — Family members of five men charged in a bizarre child sex abuse case reacted with disbelief and sadness Thursday to the "unspeakable" string of alleged atrocities spanning two decades.
"It's unspeakable. I can't think of words that would put this in perspective. I find it repulsive if it's true," said Darrel Mohler, a brother of one of the five men charged.
The men — a father and his four adult sons — were dressed in orange jumpsuits and shackled at their wrists, waists and ankles on Thursday when they made their first court appearance. Associate Circuit Judge John Frerking read the charges against them, including forcible sodomy, rape with a child younger than 12 and use of a child in a sexual performance.
Burrell Edward Mohler Sr., 77, of Independence, looked ill, keeping his eyes closed during much of the proceeding and coughing several times.
The other suspects are Mohler's sons: Burrell Edward Mohler Jr., 53, of Independence; Jared Leroy Mohler, 48, of Columbia; Roland Neil Mohler, 47, of Bates City; and David A. Mohler, 52, of Lamoni, Iowa.
Missouri State Highway Patrol arrested a sixth suspect late Thursday, a 55-year-old man from Kansas City. The man is suspected in the rape of a child less than 14 years old, the highway patrol said in a statement. The suspect is an "associate" of the Mohler family, the statement said.
The allegations against the Mohlers — including bestiality, forcing children into fake marriages with relatives and making an 11-year-old have an abortion — date from 1988 to 1995.
The men did not enter pleas and said little during the 20-minute hearing. They did not appear to have legal representation. The judge told them they could apply for public defenders.
The men are being held on cash bonds ranging from $30,000 to $75,000. Their next court hearing is scheduled for Nov. 17.
Darrel Mohler, brother of Burrell Mohler Sr., said Thursday that he hasn't seen his brother for years and the two were never close. "I'm 72, and this kind of struck me right in the gut," he said.
Merrill Clark, 63, a cousin of Burrell Mohler Sr.'s, said he attended the men's hearing hoping to get a sense "of their guilt or innocence."
"But I went away not much better than I was before," said Clark, of Lenexa, Kan. "Burrell looks like a broken old man. ... His hearing aid wasn't turned up quite enough. He never looked at me."
Clark said he did, however, make eye contact with David Mohler.
"I wanted to cry, and he appeared to be about the same way," Clark said. "But again, was he glad to see me for support, or was he embarrassed to see me? I can't really believe it. But I know it could be true."
Clark said when he heard about the charges against the five men his "chin kind of hit the floor."
"As far as I know they have been very upstanding citizens. It's just hard to believe," he said. "But anything is possible in this day and age."
Authorities resumed a search Thursday at a rural property outside Bates City, about 30 miles east of Kansas City, Mo., where members of the Mohler family once lived. They believe they may find a body or bodies and buried glass jars with notes written by children who may have documented sexual abuse.
"There has been an indication that there are body or bodies in numerous locations," Lafayette County Sheriff Kerrick Alumbaugh said Wednesday, although he would not say whose bodies they might be.
Cpl. Bill Lowe of the Missouri State Highway Patrol said Thursday that about 50 law enforcement officials are involved in the case, and that several leads have come in since the arrests Tuesday.
"It's 55 acres, so it's quite a bit of land," Lowe said. "We're still searching the area and doing lead follow-ups. We're getting substantial amount of leads that we need to track down and verify."
Copyright 2018 The Associated Press. All rights reserved. This material may not be published, broadcast, rewritten or redistributed. We strive to uphold our values for every story published.