The state's health officer had the day off for Veterans Day, so he spent it by volunteering at an H1N1 immunization clinic in Lawrence.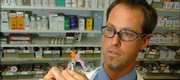 An outbreak of H1N1 Swine Flu was reported in Mexico in April 2009. By the end of May, it had spread across the U.S., with all 50 states reporting cases.
Dr. Jason Eberhart-Phillips, of Lecompton, said he wanted to see firsthand how the mass vaccination clinics were going and it was his first chance to do so.
He talked with volunteers and administered vaccines during the four-hour clinic at Quail Run — one of seven Lawrence schools that had a clinic on Wednesday. Another seven schools are having clinics today.
Before his volunteer work, he provided a one-on-one interview about the H1N1 virus:
Q: Should people get the H1N1 immunization vaccine?
A: If you are in the priority groups — those who are at an increased risk of serious complications from getting the virus — we recommend that you get the vaccine. In clinics like this, it is very easy to do and costs nothing. It's very safe and we are monitoring the safety very carefully. We are finding no serious adverse reactions.
Q: Why have the priority groups been condensed and when will it the list expand?
A: We did that temporarily because when supply is low, we needed to prioritize within those groups to make sure that the people with the absolute greatest need can get the vaccine first. But, I anticipate that's going to expanded very shortly as we get more vaccine online and as more and more people have received the vaccine.
Q: How much vaccine is the state receiving?
A: It's a little less than 1 percent of the whole national supply and that's in the 48 million dose range right now. So, it's still far, far short of what we need to cover the entire population. But slowly, but surely, we are making progress and each week there's more vaccine available.
Q: When will the vaccine be available for those who have chronic health conditions such as diabetes?
A: That's going to be a determination in each county based on their assessment of how much demand remains in the narrower groups. When they feel that those populations that want the vaccine have gotten it, then they will expand it. I am anticipating that will happen very shortly. So, all of those adults under age 64 with chronic conditions that put them at increased risk of severe disease — such as diabetes, asthma and other underlying conditions — they will get the vaccination fairly shortly.
Q: When there are reports of deaths in Kansas due to the swine flu, most have had underlying health conditions. What are those conditions
A: They have some of the conditions that are recognized as putting you at increased risk of severe disease when you get infected with the flu. They are conditions like diabetes, heart disease, neurologic conditions and asthma. People who have those conditions — and they are fairly common — have a greater risk of being hospitalized and even dying from exposure to this virus. Although a third or more of the people who are getting this virus — and may well die — don't have any of those underlying health conditions, which is all the more reason for people to take this disease seriously.
Q: How does Kansas compare to other states in H1N1 illness and deaths?
A: It's fairly uniform right now around the country in terms of being at unprecedented high levels in virtually every state and Kansas is no different. In the last couple of weeks, it appears that the incidence has dropped somewhat, but we're still at levels above what we would expect — even at the peak of a winter flu season and this is only mid-November. So, we've still got a long way to go with this, and the sooner we can get more people immunized, the sooner we can turn this thing around.
Q: LJWorld.com user gisele would like more information about the two doses involving children.
A: Children under the age of 10 appear to need two doses to get the same protection that an older person would get with a single dose in terms of the antibody response that's been measured in thousands of people in clinic trials. So, our recommendation is that you get that second dose just to be sure that your child is fully protected.
Q: Will the children who need a second dose be able to get it? Don't they need to get it within a month of the first one?
A: You don't have to get it within a month. You can't get the second dose less than three weeks after the first one because it won't be helpful. But you can get it anytime after that and the recommendation is about four weeks if you can get it. If you have to wait five or six weeks, it will be just as good once you get it.
Q: Can people get sick with H1N1 more than once?
A: No. It can't be true. If you've had H1N1 influenza this season, you are immune until potentially next season when it comes back and it's slightly different and your body doesn't recognize it. But, right now, the same virus you would have had a couple of months ago, you are immune to now.
Now, people think they've had this when perhaps they just had some other viral infection. So, none of us can be sure unless we are among the very few who are getting tested like hospitalized patients. It's best to go ahead and get the vaccine even if you think you've had the disease.
Q: Can pets get the H1N1 virus from their owners?
A: Unless your pet is a pig, I wouldn't worry about that.
Q: But, I've heard that a family gave the flu to their cats. Is this true
A: Really? Anything is possible with the flu, but I highly doubt it. You need to have a respiratory tract that's similar to ours and believe it or not, pigs are about the closest thing to us that's out there. A number of incidences have been reported around the world of humans infecting pigs. There's no transmission the other way — from pigs to humans. So, there's no reason to be afraid of pigs or any pig products. Pigs have more to fear from us and that would be the only animal that I would worry about getting infected.
Q: Is the H1N1 virus mutating and showing up in different forms
A: That's being very, very carefully monitored around the world and occasionally there are some reports of subtle changes in the virus. But actually that's normal flu viruses do normally, and this one — thankfully, knock on wood — is remarkably stable. The genetic makeup of this virus hasn't changed very much at all from last spring. That's good news, but we can expect that it will change — maybe not become any more or less severe — but that it will change over the course of the next year. Next winter, we will have to get immunized against it again with a new vaccine. That's looking into the future, but that's what we full aspect.
Q: What's going on with the testing? LJWorld.com user GardenMomma said different doctors have given her different advice on how long a test might take and the costs associated with testing.
A: There's only one definitive, certified test to determine if the particular virus that is infecting you is the H1N1 influenza 2009 variety and that's only available through the state public health lab. Because of the very limited capacity that's available to do that testing, only persons who are hospitalized and people whose providers are participating in a surveillance system, where we are measuring the incidence of disease in places around the state, can get the test. So, except for those few people, a test for H1N1 flu isn't available.
What (GardenMomma) is probably talking about is an in-office test that's called a rapid influenza A test, which if you perform it in the office and it's positive, then you've got A type of influenza. Right now, it is almost definitely the pandemic strain because that's all that there is that we know about.
But, the test isn't very sensitive, so if you have a negative test but you have all of the symptoms of the flu, you may still have this infection. So, the testing isn't very good.
Q: According to the GardenMomma, doctors gave her different prices and lengths of time the test would take. Why is that?
A: There may well be private labs that have noncertified tests because there's obviously a market out there. I know that one hospital in Wichita is using the same process to test their own patients, but it isn't certified by the Centers for Disease Control and Prevention.
Q: What should people do if they get sick?
A: Stay home until at least 24 hours after their fever resolves, so that the chances that they can affect others is lower. It is possible, especially with these little kids, to shed virus a long time after they are well. So, we can't be certain. But, it's a fair balance to say the risk of you infecting somebody else is a lot lower if you wait those 24 hours. You may feel wonderful and want to get right back to work, but wait another day and preferably the weekend and then go back.
Q: LJWorld.com user chocolateplease asks, have there been adverse reactions to the vaccine?
A: When you are talking about immunizing virtually the entire population of the United States, bad things are going to happen — even to some of these people who get immunized this evening. They will go out these doors and something is going to happen. Now, the question is, "Is it related to the vaccine or is that something that was going to happen anyway.'
Say, 50 people a day in Kansas have a heart attack. Inevitably, one of those people are going to have come in and got an H1N1 vaccine.
There's hundreds of women who have miscarriages and we are trying to get all of these pregnant women immunized. Inevitably, we've probably already had miscarriages right after vaccinations, so these things will happen.
So, we are very carefully collecting all of those events. I was shown a list of them yesterday and none of them looked too serious that were from Kansas. But we are looking to see if there's a pattern, to see if there's something occurring at a rate higher than we would expect in the background or to see if there's something that's just really weird that keeps turning up in states all over the place.
Those are the signals that something is going on. If it is, these people are going to be studied very carefully and if there's any chance it's related to the vaccine, everything you see here will cease overnight.
We don't expect that to happen because this is essentially the same vaccine as we've given every year. They've just changed the antigen — the protein that's stimulating the immune response. Everything else — the way the vaccine is made, where it is made, the process it goes though — is exactly the same and hundreds of millions of people have gotten the seasonal flu vaccine every year for decades without any serious problems. So, the chances that anything really strange is going to come up is negligible.
There's 5 percent of the population that won't believe anything that I just said and in some communities it's up to 10 percent, but it's their choice.
Q: Is it true that children are having more severe and life-threatening reactions to the H1N1 vaccine compared to the seasonal flu vaccine?
A: No. All we are possibly talking about for those getting the shot, is some redness and soreness and swelling for a couple of days at the site of the injection or possibly a runny nose from those getting the spray or maybe a headache or kind of achy feeling for a day or two. That's common enough that it probably is a mild reaction that some people get it — I believe that. But in terms of serious reactions — no.
Copyright 2018 The Lawrence Journal-World. All rights reserved. This material may not be published, broadcast, rewritten or redistributed. We strive to uphold our values for every story published.