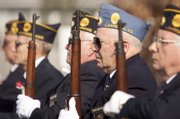 The United Veterans' Organization of Douglas County gathered Wednesday to commemorate military service and sacrifice for Veterans Day.
"That's one of our things that we want to show these guys — the respect that they served their country," Don Dalquest said.
Dalquest is commander of Lawrence's American Legion Dorsey-Liberty Post 14, which hosted the program. About 100 people attended the event, which featured guest speaker Gary Napier.
Napier, a Vietnam War vet, works for the mental health clinic at the Colmery-O'Neil Veterans Administration Medical Center in Topeka. He said that Vietnam veterans often hold ill feelings about their service. Regardless, they should not be ignored.
"I would hope that they could come out of the shadows," Napier said, "and join together in some of these groups and others, and have a voice in what we do honor in this country."
While "Taps" was played to remember deceased veterans, those serving in Iraq and Afghanistan remained a main focus of Wednesday's ceremony.
Tim Russell, a veteran of Operation Iraqi Freedom, was presented a fishing pole for his service. Russell would like to see younger veterans get involved with the American Legion or the Veterans of Foreign Wars — not just for the resources available to them but also for the camaraderie.
"Everybody thinks it's for the old-timers," Russell said. "We need to get the younger (veterans) involved in it too."
Copyright 2018 The Lawrence Journal-World. All rights reserved. This material may not be published, broadcast, rewritten or redistributed. We strive to uphold our values for every story published.