It was a gathering of the past, present and future.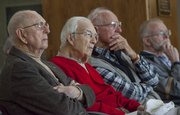 -->
Marine survivors from every major American military operation since World War II were represented as about 200 Lawrence area Marines celebrated the Corps' 234th birthday on Tuesday at the Dole Institute of Politics.
As Marines of all ages celebrated their rich history, they recognized the U.S. Marines who remain engaged in wars in Afghanistan and Iraq.
"There was a fear when this war started that the current generation might not be able to live up to your traditions, your bravery, your courage, your honor," said Col. Ivan Glasco, the guest of honor at the birthday celebration.
But Glasco, an Overland Park resident and assistant chief of staff of the Marine Corps Mobilization Command, said current Marines have done their part to live up to tradition — the spirit that Lt. Gen. John A. Lejeune wanted to memorialize in 1921 when he ordered Marines to celebrate their founding annually.
Glasco held up a photo of 26-year-old Sgt. Cesar B. Ruiz, a San Antonio Marine, who was killed Oct. 31 in a roadside bombing in Afghanistan. Ruiz volunteered to be sent there for a second tour even though he had the option to stay home.
"The current generation can and is living up to your standards — brave, courageous with honor and conviction," said Glasco, who served in Iraq in 2004. "That's the present."
The birthday celebration in Lawrence has grown in about 30 years from a few city department leaders and employees gathering in the City Commission meeting room to a 200-person event at the Dole Institute, said Erv Hodges, who served from 1948 to 1970.
The first Marines that Hodges recognized on Tuesday were World War II veterans.
"I feel like American is a special place, and we have enjoyed a lot of good living in this country," said J. Earl Wilson, 85. "I wish we could keep it that way."
Wilson, a Lawrence resident, said he remembered joining the Marine Corps in 1943 at the urging of a friend. He finished his duty in 1945 as a corporal and had served in the Philippines.
John Diehl, 91, of Lawrence also served in the South Pacific. As the oldest Marine present, he received the second piece of cake at the celebration, and Lance Cpl. Jordan Alley, 23, the youngest present, received the third piece. Glasco got the first piece.
"At the time we were in war, we served because it was the thing to do," Diehl said. "I'm very proud that I served and proud that I was a Marine."
Near the end of his speech, Glasco marched 10 members of the Marine option of Kansas University's Naval ROTC to the front. He called them to be leaders in the future.
"It's not going to be about you because we are a nation at war," Glasco said. "And I'm going to stand here and tell you, that's a very strong responsibility."
Copyright 2018 The Lawrence Journal-World. All rights reserved. This material may not be published, broadcast, rewritten or redistributed. We strive to uphold our values for every story published.