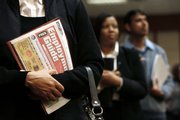 Washington — Companies across the economy are finding ways to do more with fewer workers, dimming hopes that hiring will take off anytime soon.
Employers became leaner and more efficient in the third quarter. Wages, meantime, remain flat or falling. The result is that productivity — output per hour of work — jumped at the fastest pace in six years.
The good news for companies may be bad news for the jobless. As long as companies can get their workers to produce more, they have little reason to hire — at least until consumer spending picks up. And the squeeze on incomes could depress consumer spending, putting the economic recovery at risk.
Still, some economists were encouraged by the productivity report. They say that eventually, employers won't be able to squeeze more from their staffs. They will then have to ramp up hiring — something that could happen next year, even though the jobless rate is expected to hit double digits.
Better than expected
Productivity rose at an annual rate of 9.5 percent in the July-September quarter, the Labor Department said Thursday. That was much better than the 6.4 percent gain economists had expected. Unit labor costs fell at a 5.2 percent rate.
While companies aren't doing much hiring, they're not cutting as many workers, either. The number of newly laid-off workers filing claims for unemployment benefits last week fell to the lowest level in 10 months.
On Wall Street, the better-than-expected jobless claims report and an upbeat forecast from Cisco Systems Inc. buoyed investors. The Dow Jones industrial average added nearly 204 points to 10,005.96, and broader indexes also gained.
The 9.5 percent productivity rise followed a 6.9 percent surge in the second quarter and was the fastest since a 9.7 percent increase in the third quarter of 2003.
The gain reflected that the overall economy, measured by the gross domestic product, grew for the first time in a year — at an annual rate of 3.5 percent. That came as companies continued to lay off workers, meaning employers produced more with fewer workers.
The 5.2 percent drop in unit labor costs marked the third straight decline and was larger than the 4 percent decrease economists were expecting.
Costs, benefits
Productivity is the key ingredient to raising living standards. It lets companies pay their workers higher wages. Those increases tend to be financed by increased output, rather than higher costs for products.
But as they struggled with the recession, companies boosted productivity while continuing to lay off workers. Many produced more goods; others kept their output down but slashed costs. Companies kept wages down by freezing pay or imposing unpaid furloughs.
"Survival meant cutting costs as rapidly as possible and fulfilling orders with the fewest number of workers," said Joel Naroff, chief economist at Naroff Economic Advisors.
Some companies in hard-hit sectors have managed to boost productivity despite job cuts. They've had to find ways to stretch their remaining workers to keep up with demand.
Fein Tool North America, a Cincinnati company that supplies auto parts manufacturers, has cut about 100 workers, or 33 percent of its staff. But Fein president Ralph Hardt said the company can still fill its orders by using more overtime shifts and temporary workers.
Hardt said he plans to rehire once the economy picks up again. "If I see signs of recovery, I am going to hire back, but I am going to be very prudent," he said.
Copyright 2018 The Associated Press. All rights reserved. This material may not be published, broadcast, rewritten or redistributed. We strive to uphold our values for every story published.