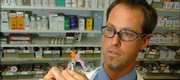 An outbreak of H1N1 Swine Flu was reported in Mexico in April 2009. By the end of May, it had spread across the U.S., with all 50 states reporting cases.
The Lawrence-Douglas County Health Department will offer an H1N1 immunization clinic Saturday in Baldwin City.
The clinic will be from 10 a.m. to 2 p.m. at Baldwin City High School, 415 Eisenhower St.
On Wednesday and Nov. 12, clinics will take place at most Lawrence schools during parent-teacher conferences.
All of the clinics will be for Douglas County residents who are at risk of developing complications if they get swine flu. They are:
• People between the ages of 6 months and 18 years.
• Daily care providers and household members of children younger than 6 months of age.
• Pregnant women.
• Health care and emergency services personnel who have direct patient contact.
The vaccines are free of charge. To download a consent form that may be filled out ahead of time and brought to the clinic or for a schedule of the clinics, visit ldchealth.org.
Copyright 2017 The Lawrence Journal-World. All rights reserved. This material may not be published, broadcast, rewritten or redistributed. We strive to uphold our values for every story published.