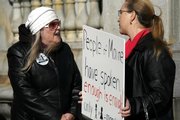 San Francisco — Stunned and angry, national gay rights leaders Wednesday blamed scare-mongering ads — and President Barack Obama's lack of engagement — for a bitter election setback in Maine that could alter the dynamics for both sides in the gay-marriage debate.
Conservatives, in contrast, celebrated Maine voters' rejection of a law that would have allowed gay couples to wed, depicting it as a warning shot that should deter politicians in other states from pushing for same-sex marriage.
"Every time the citizens have voted on marriage, they have always sided with natural marriage," said Mathew Staver, founder of Liberty Counsel, a Florida-based Christian legal group. "Maine dramatically illustrates the will of the people, and politicians should wake up and listen."
Gay activists were frustrated that Obama, who insists he staunchly supports their overall civil rights agenda, didn't speak out forcefully in defense of Maine's marriage law before Tuesday's referendum. The law was repealed in a vote of 53 percent to 47 percent.
"President Obama missed an opportunity to state his position against these discriminatory attacks with the clarity and moral imperative that would have helped in this close fight," said Evan Wolfson of the national advocacy group Freedom to Marry. "The anti-gay forces are throwing millions of dollars into various unsubtle ads aimed at scaring people, so subtle statements from the White House are not enough."
The White House, asked about the criticism, had no immediate comment.
Key battlegrounds
The marriage debate is simmering in at least a half-dozen states where a same-sex marriage bill is pending or where a court ruling or existing law is being eyed by conservatives for possible challenge.
Had Maine's law been upheld by voters, it would have become the sixth state to legalize gay marriage — and the first to affirm it by popular vote. In Massachusetts, Vermont, Connecticut, New Hampshire and Iowa, gay marriage resulted from court decisions or legislation.
California is sure to be a major battleground over the next several years. Last year, conservatives succeeded in winning public approval of Proposition 8, which overturned a state court ruling allowing gay marriage. Gay rights groups want to take the issue back to the voters but are divided on a timetable.
In the aftermath of the Maine vote, some California activists appealed to their supporters for money to help them put a measure on the 2010 ballot. Other activist leaders want to wait until 2012.
"It's never too early to go back to right a fundamental wrong," said Chaz Lowe of Yes! on Equality, who favors shooting for 2010. "A lot of people are angry, a lot of people are upset. It at least has the potential to be a mobilization for the grass roots."
Some California activists said the outcome in Maine strengthened their belief that it will fall to the U.S. Supreme Court — not the voters — to make gay marriage legal. A federal lawsuit challenging Prop. 8 is scheduled to go to trial in January, the first step in a legal journey that is expected to reach the high court in a few years.
"The results in Maine underscore exactly why we are challenging California's same-sex marriage ban," said Chad Griffin, president of the American Foundation for Equal Rights, the Los Angeles group spearheading the lawsuit. "The U.S. Constitution guarantees equal rights to every American, and when those rights are violated, it is the role of our courts to protect us, regardless of what the polls say."
Nationwide
The situation elsewhere:
• In New Jersey, the election Tuesday of Republican Chris Christie as governor puts extra pressure on gay rights supporters to win passage of a pending same-sex marriage bill before the legislative session ends in January. Christie says he would veto such a bill, while lame-duck Gov. Jon Corzine, a Democrat, says he would sign it.
• In Iowa, where the state Supreme Court legalized gay marriage last April, conservatives have no quick way to overturn the ruling. Their only option would be to amend the state constitution through a ballot measure — in 2014 at the earliest — and that effort would need approval from a legislature whose current Democratic leaders don't even want to debate the issue.
• In New Hampshire, conservatives have filed legislation to repeal the state's new gay-marriage law and amend the constitution to ban such unions. Kevin Smith, executive director of the conservative Cornerstone Policy Research, said he doubts the measures will pass, but hopes the vote in Maine will give gay-marriage opponents ammunition for the 2010 elections.
"It gives us more fodder to go back to people and say, 'Look, they aren't letting you vote on it,'" Smith said.
• In Washington, D.C., conservatives are trying to force a popular vote on a bill headed toward City Council approval that would legalize gay marriage. Michael Crawford, one of the leaders of the local pro-gay marriage campaign, said the result in Maine increased his determination to avoid a ballot measure.
"The same cabal of anti-gay groups who stripped away marriage equality from our families in California and Maine now have their sights on D.C.," he said.
Tony Perkins, president of the conservative Family Research Council, came away with a different message.
"Over and over again, the American people have affirmed marriage at the ballot box and turned aside the demands of a movement that remains largely driven by Hollywood, some extreme activists and a few activist judges," he said.
"We hope the message sent by Maine's voters will be heard in Washington and state capitals around the nation."
Copyright 2018 The Associated Press. All rights reserved. This material may not be published, broadcast, rewritten or redistributed. We strive to uphold our values for every story published.