Photo Gallery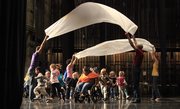 Performing Arts 3to5 Program 2009
The Lied Center's Performing Arts 3to5 program took preschool children to the stage again on Monday and Tuesday. The program introduces children to different art forms. This year's program focused on dance, particularly the use of air in dance. The Lied Center hosted the Maryland-based Liz Lerman Dance Exchange for a weeklong residency, and the adult dancers worked with area children.
The Liz Lerman Dance Exchange will perform at 7 p.m. Saturday at the Lied Center in "Ferocious Beauty: Genome," which investigates the impact of genetic research through movement and theater.
Copyright 2018 The Lawrence Journal-World. All rights reserved. This material may not be published, broadcast, rewritten or redistributed. We strive to uphold our values for every story published.