Photo Gallery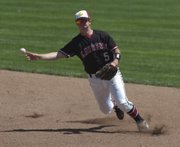 LHS vs. Goddard
Lenexa — Top of 7th Inning: LHS 3, SMW 2
LIONS WIN!!!!! DOG PILE AT 3-AND-2 BASEBALL COMPLEX!!!
Minnis strikes out the final batter to end the game. The Lions are the 2009 State Champions. Andy Urban is the winning pitcher. Minnis gets the save.
2 outs. Near double-play ground ball to Forio gives LHS the second out. Minnis walks the next batter and it's 1st and 2nd with 2 outs.
LHS catcher Jake Green picks off the runner at 2nd base by throwing behind him after a failed bunt attempt. One out, runner at first 0-1 count. LHS fans go wild.
Nick Lichtenberg reaches on a throwing error by Pinnick to start the inning and Minnis grazes Dan Kornfeld on the bill of the helmet to put runners at 1st and 2nd with 0 outs.
Here we go... LHS is three outs away from a state title. Minnis on the mound, bottom of the Vikings' order up to bat, LHS fans on their feet.
6th Inning: LHS 3, SMW 2
LHS has SM West down to its final three outs as Minnis retired the Vikings in order again in the top of the sixth.
Due up for LHS: Kilmer, Dorian Green and Moseley. Due up for the Vikings in the top of the 7th, the No. 7-8-9 batters, who are a combined 2-for-5 with a double and an RBI today.
Batters No. 4-5-6 due up for SMW in the sixth. Minnis still on the mound for the Lions.
5th Inning: LHS 3, SMW 2
LHS loaded the bases with one out but Jake Green grounded to shortstop, who fired home to get the force out, and Tyler Bailey struck out to end the inning.
Aaron Rea led off the 5th with a walk and pinch-hitter Lance Kilburn strikes out. Pinnick singles to right and LHS has runners at 1st and 3rd with one out.
Minnis retires the first three Vikings he faced and the momentum appears to have fully shifted.
Brandon Huske leads off with a walk, which prompts LHS coach Brad Stoll to pull Urban in favor of Albert Minnis.
Minnis, the hard-throwing lefty, pitched just 3 innings in the 17-0, 3 inning win against Blue Valley on Friday,
Jack Bush enters into left field in place of Minnis. Urban is in line for the victory.
Top of the SMW order due up.
4th Inning: LHS 3, SMW 2
The Lions sent seven batters to the plate in the fourth inning, three picked up hits and Jake Green — who appeared to fly out to short — reached on catcher's interference.
That set the stage for Bailey's big blast.
LHS ties the game on a two-run double from Tyler Bailey. Bailey only recorded one RBI on the hit because Jake Green scored on a throwing error by the center fielder. Bailey's double reached the wall in center, nearly 400 feet away from home plate.
Bailey advances to third on a wild pitch and then scores the go-ahead run on a single from Tanner Kilmer.
SM West's Joey Parrack has been pulled from the game. Now pitching is No. 1 Cole Millard. Millard enters the game with one out and Kilmer on first.
The three-run rally has awakened the LHS fans.
SM West threatens again with a double, a stolen base and a hit batter. But Andy Urban strikes out No. 9 hitter Dam Prem to get out of the jam and keep the Lions within two.
3rd Inning: SMW 2, LHS 0
The Lions pick up another hit, a Landon Moseley single, but after stealing second base, Moseley was left stranded at second as well.
2 runs, 3 hits and 0 errors for SM West. 0 runs, 2 hits and 2 errors for the Lions through three.
Andy Urban gets SMW 1-2-3 in the third and has his first easy inning of the day. Three groundouts for the Vikings, one a comebacker to Urban.
2nd Inning: SMW 2, LHS 0
LHS gets its first hit of the game, a one-out double from Jake Green, but Green is left stranded at second and the Lions end the inning with a Tanner Kilmer groundout to third.
SM West strikes again with a two-out, two-strike single from No. 9 hitter Dam Prem. Through two innings West has 2 runs on 3 hits.
Due up for LHS, Minnis, Jake Green and Tyler Bailey.
1st Inning: SMW 1, LHS 0
LHS goes down 1-2-3 in the bottom of the first. Rea grounds out to third, Forio strikes out looking and Pinnick flies out to right field.
SM West takes an early lead after a leadoff single and two errors. The Lions did a good job to get out of the inning with minimal damage.
On to the second. Rea, Forio, Pinnick.
6 p.m. Update
Introductions are under way and we're almost ready to go.
SM West in white pants and yellow tops with black hats and black and gold socks. LHS is in all white, the same uniforms they wore in the first round against Blue Valley.
West will start junior Joey Parrack on the mound. Parrack pitched a few innings in the Vikings' opener on Friday.
The bleachers are packed, they're standing four or five deep down each foul line. It's a wonderful atmosphere, a wonderful night and a perfect setting for a state title game.
First pitch is coming up.
5:25 p.m. Update
The third-place game just wrapped up with Goddard defeating Maize, 8-6.
Field crews are now preparing the field for play and the game is scheduled to begin around 6:15 p.m., as soon as both teams take infield.
Fans are piling into both sides in massive numbers, as the predominant colors of gold (SM West) and red (LHS) are dominating the scene at 3-and-2 Baseball Complex.
It truly is an amazing scene, one LHS coach Brad Stoll said both teams deserve to play in front of, considering that tonight's game is for the state title.
The trophies and medals for third and fourth have been handed out. It's time to move on to the title game.
More to come.
For now, here's a look at the Lions' lineup. Senior right-hander Andy Urban will get the start on the mound. Urban is 5-2 on the year with a 2.47 ERA.
No. 4 LHS (20-4)
1. Aaron Rea, SS
2. Devin Forio, 2B
3. Clint Pinnick, 3B
4. Albert Minnis, LF
5. Jake Green, C
6. Tyler Bailey, CF
7. Tanner Kilmer, 1B
8. Dorian Green, P
9. Landon Moseley, DH
Original Post
It's an all-Sunflower League final at the 2009 Class 6A state baseball tournament.
After advancing to the title game with a 4-1 victory against Goddard on Saturday morning, the Lions (20-4) learned Saturday afternoon that their title-game opponent would be a familiar foe.
"None of us are satisfied yet," LHS senior Aaron Rea said after the win against Goddard. "Second place is not what we want. We've played great so far but we're not going to be complacent. We're going to go eat some lunch and come back and be ready to be locked in."
SM West knocked off Maize, 9-1, in the second semifinal.
The Lions and Vikings knocked off the top two seeds at state on Saturday by outscoring No. 2 Goddard and No. 1 Maize by a combined score of 13-2.
The afternoon upset was the second in a row for sixth-seeded SM West, which upended Wichita Northwest, 8-4, on Friday.
The Lions edged the Vikings, 4-3, in the only regular season meeting between these two squads.
The win was the Lions' fifth in a row at the time and improved them to 10-4 through 14 games. Interestingly, LHS senior Andy Urban picked up the win in relief of Dorian Green that night. Urban is scheduled to start tonight's title game.
Although LHS is familiar with tonight's opponent, they're not counting on things being easy.
"At this point, in the state tournament, seeds really don't matter," Rea said. "At this level and this point in the season, all of the teams that are here are able to beat each other any day of the week. Seeds don't really matter. We're coming to play and hopefully we can just come out and win the whole thing."
Check back with LJWorld.com throughout the evening for the latest from the field and for live, in-game updates throughout the championship game.
In addition, you can see a tape-delayed replay of the state championship game at 10:30 tonight on Channel 6.
Driving Directions to 3-and-2
For those of you still thinking about making the trip over to support the Lions, here's a look at the easiest route to take.
1. Travel east on K-10 for approximately 24 miles.
2. Exit at K-7 and head north for approximately 2.4 miles.
3. Exit off of K-7 onto W. 83rd Street and turn right (east).
4. Travel east on 83rd Street (which turns into 87th) for approximately 3 miles. The complex will be on your left-hand side and the game will be played on Field 1 at the East Complex.
Here's the link to Google Maps for driving directions.
Copyright 2018 The Lawrence Journal-World. All rights reserved. This material may not be published, broadcast, rewritten or redistributed. We strive to uphold our values for every story published.