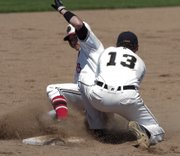 Lenexa — Runs, Forrest, Runs
Believe it or not, the 17 runs scored by Lawrence High's baseball team in a 17-0 victory against Blue Valley in the first round of the Class 6A state tournament on Friday were not a season best.
That came during the second game of a doubleheader back in April, when the Lions scored 18 runs against Leavenworth.
Although the game spanned just three innings, the Lions stepped into the batter's box 26 times on Friday.
Of those 26 at-bats, eight went for extra bases, and seven of the 10 Lions who had an at-bat logged at least one extra-base hit.
Albert the Great
With the LHS faithful well aware of what Albert Minnis had done — six strikeouts and one hit allowed on the mound, and two home runs and six RBIs at the plate — their loudest cheer was reserved for a long fly out to right field.
With one out in the bottom of the third, Minnis lifted a fly to right that advanced the runner but did not plate a run. As he trotted back to the dugout, the LHS fans serenaded him with a standing ovation.
"I didn't hear anything today. I'm in between the lines when I'm out there," Minnis said. "I wish I would've, I wish I could've seen how many people were here and catch the experience, but I didn't hear any of it."
Hitting contagious
After producing just five runs and seven hits in two games at last week's regional tournament, Lawrence High pounded out 13 hits Friday and appeared to be gaining momentum with every swing.
Although many of the hits were memorable for different reasons, few showed how contagious hitting can be like the lined single from pinch-hitter Lance Kilburn in the bottom of the third.
"(Assistant coach) Adam Green always says hitting's contagious," LHS coach Brad Stoll said. "And we proved it today. I think the offense from everybody, one through nine, was good today. We had great at-bats, and then the Kilburn kid, who gets an at-bat once a week, comes in to pinch hit, and he gets a hit. When one guy does it, the next guy does it and the next guy does it."
Hy-Vee helpful for LHS
The Lawrence High baseball team met at Hy-Vee Friday morning to kick-start their state tourney day with a hardy breakfast. Although none of the Lions specified who ate eggs, who had french toast and who loaded up on biscuits and gravy, the team was certain of one thing following Friday's victory.
"We ate a team breakfast at Hy-Vee this morning, and I can guarantee you we're going back (today)," Stoll said.
Magic Man Moseley
Even the balls that Blue Valley fielded Friday — which were few and far between — gave the Tigers trouble. After Landon Moseley walked and advanced to third on an Aaron Rea single as the second batter of the second inning, Moseley flashed some fancy footwork on a groundball hit by Devin Forio to third.
After Blue Valley's Taylor Drake fielded the ball on two hops, he looked right at Moseley, hoping to hold him at third. It worked, but as Drake rushed Moseley to tag him, the LHS junior danced back under the tag safely. Forio, meanwhile, pulled into first easily, loading the bases to start what went on to become a four-run inning that blew the game open.
Copyright 2018 The Lawrence Journal-World. All rights reserved. This material may not be published, broadcast, rewritten or redistributed. We strive to uphold our values for every story published.