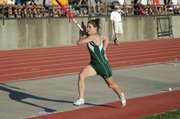 Wichita — Drue Davis forever will be a pole vault state champion at Free State. But she couldn't have done it without help from Shawnee Mission North.
A week after setting a school record in the pole vault, Davis one-upped herself Friday, clearing a new school-record height of 11 feet, 6 inches to win the Class 6A state pole vaulting championship at Cessna Stadium.
"I was really, really amazed that I did that," Davis said. "I didn't think that I could do that."
She wouldn't have been able to if not for help from the Indians.
After Davis failed in her first two attempts at 11 feet, FSHS pole vault coach John Olson had Davis try her final attempt with a 13-foot pole instead of a 12-footer. From his view, the 12-foot pole was bending too much, which was causing Davis to be thrown into the bar.
Davis needed a stiffer pole. And because FSHS didn't have a pole the right size, Olson asked the rival school if he could borrow one.
A few seconds later, Davis prepared for the vault — one that could potentially be the last of her season — with a pole she'd never used.
"Surprisingly, I really wasn't that nervous," Davis said. "I just, in my mind, knew that my pole was too short, so I was like, 'I know if I just do this how I'm supposed to, it'll work out.'"
Work out it did, as Davis cleared the mark despite not even originally knowing from what school her new lucky pole had come.
Using the same pole, Davis cleared 11-6 on her first attempt.
"She's really fast, and she's also really strong, but getting her to use that was kind of a little bit of a struggle," Olson said. "Now, we're finally getting her to use that, and she's just learning what she can do."
Washburn Rural's Katie Thurban — the only other competitor left — failed in her three attempts at 11-6 to give Davis the title.
"I was just relieved," Davis said. "You kind of stress a little bit about everything when people are still in."
Davis has made great strides just in May. She finished second at last week's regionals with an 11-foot clearance. Last season, she had been stuck at the 10-foot mark for most of the year.
With a few adjustments in the last three weeks — including changes in her takeoff and arm position — Davis has turned herself into an elite vaulter.
"I'm not sure how high she can go, but it's a lot further," Olson said. "It could be the sky."
Lawrence High's Chebon Dawes contributed the city's only other top-three showing Friday, placing third in the discus.
Dawes qualified for the finals with a throw of 159 feet, 2 inches.
His final three throws, though, all fell short of 152 feet.
"Nervousness got to me," Dawes said. "I just don't know how to explain it."
The senior was runner-up at state last season in discus and was a little disappointed he couldn't match or beat his personal record of 162-4 in his final high school meet.
"(Third is) better than fourth or fifth. It's better than being below third," Dawes said. "It's not what I wanted, but you have to keep your head up."
Chris Smith was the next-highest LHS finisher, taking fifth in the javelin with a throw of 183 feet, 8 inches. Roy Wedge, meanwhile, placed sixth in the 3,200-meter run with a time of 9:44.51.
Whitney Demby (ninth, triple jump) and Louisa Hussien (10th, high jump) also contributed top-10 showings.
Free State's Keene Niemack qualified for today's finals in the 400-meter dash, posting the second-best 6A time (49.08 seconds). The Firebirds' 4x400 team of Chase Hoag, John Loch, Niemack and Nash Riggins also qualified for the finals, clocking in at 3:24.71.
Demby put herself in the finals of the 100-meter hurdles after qualifying in seventh in 16.32 seconds.
After five events, the LHS boys sit in fifth place with 11 points.
Davis' pole-vault title was enough to put the Free State girls in a tie for sixth place with 10 points.
Copyright 2018 The Lawrence Journal-World. All rights reserved. This material may not be published, broadcast, rewritten or redistributed. We strive to uphold our values for every story published.