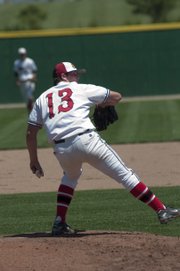 Lenexa — There's a ritual on the Lawrence High baseball team that pits senior catcher Jake Green and senior third baseman Clint Pinnick as adversaries.
At the start of every game that junior lefty Albert Minnis pitches, Pinnick treks to the mound to keep Minnis' emotions in check. Seconds later, Green trots from home plate to pump Minnis back up.
"I try to calm him down a little before we get started, but then Jake goes out there and contradicts everything I say," Pinnick said. "But whatever works."
Friday, everything did.
In what has to be one of the best all-around, individual performances in state tournament history, Minnis the pitcher allowed one hit over three innings and struck out six along the way. Minnis the masher slugged two home runs and had six RBIs at the plate in leading the Lions to a 17-0, three-inning, first-round victory against Blue Valley at 3&2 Baseball Complex.
"I'm still on adrenaline right now," Minnis said. "I think I'm only awake because of adrenaline."
It's hard to say which was more impressive Friday — Minnis' outing on the mound or his performance at the plate.
With the fourth-seeded Lions penciled in as the home team, Minnis set the tone from the hill. After striking out the final two batters in the top of the first, Minnis stormed off the field with a posture befitting that of a Chesty Lion. He banged gloves with teammates, barked at no one in particular and then grabbed his helmet and a bat. Who knew those would be the most dangerous of Minnis' many weapons?
"I'd have to say his offense was a little more impressive just because he hasn't done it lately," said LHS coach Brad Stoll of his cleanup hitter, who entered the game with a .245 average, seven RBIs and no home runs on the season. "His pitching, he's done that all year long."
His offense he saved for the perfect time.
After shortstop Aaron Rea put the pressure on the Tigers with a leadoff walk and stolen base, Minnis took all the pressure off of the Lions with a three-run monster shot to left field.
Minnis' first homer was the type that inspired the now-cliche phrase, "Anything traveling that far, that fast should have a stewardess on it."
His second was less monstrous but more unbelievable as it came with two outs.
After both, not so much as a crack of a smile appeared on Minnis' face. It's that attitude and intensity that his teammates like about him.
"He's fiery," Stoll said. "Sometimes you have to get in his face to calm him down. But you'd rather have a kid that you have to pull reins back on as opposed to light the fire. His competitiveness you can't teach. I wouldn't trade it for anything."
With the win, Minnis improved to 7-0 and lowered his earned-run average from 0.65 to 0.61. But such numbers mean nothing now. The Lions are one step closer to their ultimate goal of winning it all, and thanks to Minnis' fantastic Friday, they'll take the field today with one of their most potent pieces still fresh.
"I'm really excited that I'm not done," Minnis said. "It's a big lift to have all three of our guys still in it. We've got three ace guys for two games now. No team in the state has that luxury."
No other team has Albert Minnis.
Copyright 2018 The Lawrence Journal-World. All rights reserved. This material may not be published, broadcast, rewritten or redistributed. We strive to uphold our values for every story published.