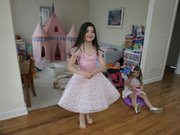 Chicago — All the pink, frilly and sparkly — from the princess dresses to the four-foot-high pink castle in the playroom — isn't necessarily what Caroline Morris would choose for her eldest daughter.
She doesn't want to stop her 6-year-old from being who she is. But as princess fever has reached a new high with this generation of girls, she and other parents are feeling the urge to rein in the would-be reigning ones, just a little.
That's especially true in tough economic times, when more parents are focusing on messages of frugality and humility that, they say, just don't fit with the princess mentality that has become a rite of passage for many girls.
Morris knows, of course, that some parents think such worries are ridiculous.
"But what happens when our daughters get to adulthood and they realize that the world isn't a fairy tale?" asks Morris, who lives in suburban Atlanta and insists she doesn't mind imaginative play. She just wants her girls to strive for something beyond being "pretty and glamorous."
The debate has been around for a long time, says Dr. Ken Haller, a pediatrician at Cardinal Glennon Children's Medical Center in St. Louis. But as princess paraphernalia becomes all but unavoidable, he says he's seeing more parents struggling with it and "questioning whether the princess message is a good thing."
These days, that message begins practically at birth with everything from princess baby shirts and "her royal highness" bibs to princess-themed photo albums and picture frames for baby girls. By the time those girls are toddlers, many are drawn to the princess dresses, glittery crowns and even makeup.
And it goes on and on. Barbie has many princess-oriented items, including a top-selling "Princess and the Pauper" DVD. Even seemingly tougher girls like Dora the Explorer occasionally don crowns, too. And then, of course, there's the undisputed leader in all things princess: The Walt Disney Co.
'Princess parenting'
In 2000, Disney began grouping several of its female movie characters together as the "Disney Princesses" — from "Sleeping Beauty" to the more recent "Mulan." Since then, executives there say that part the entertainment mogul's business has grown from $300 million that first year to an anticipated $4 billion internationally this year. And at the end of the year, they will debut an African-American princess, Tiana, and the movie "The Princess and the Frog."
All of it, Haller says, constitutes a brilliant marketing move that targets a normal stage of child development. By age 3, kids are beginning to define themselves, both with gender and as individuals. They're also big-time into fantasy play, which for boys, often manifests itself in super heroes.
But somehow, the princess phenomenon has become way more loaded.
"It just encourages parents who put their kids on a pedestal — and who encourage their kids a lot and rarely criticize," says Jean Twenge, an associate professor of psychology at San Diego State who's done research on the way parenting affects children. "You could label that kind of parenting 'princess parenting."'
Twenge, who is herself the mom of a young daughter, talks about some of this in her new book "The Narcissism Epidemic: Living in the Age of Entitlement."
Among other things, she and co-author W. Keith Campbell found the rate that college-age women were developing narcissistic traits was four times that of men, when analyzing surveys taken from 2002 through 2007. It should be noted that, overall, men of that age group still are more likely to exhibit narcissistic traits, including the belief that "If I ruled the world, it would be a much better place."
"But women are catching up, fast," Twenge says. And she thinks the princess syndrome is a factor, given that this generation of young women was young when some of the newer and most popular Disney princess films were released.
Recently, Disney also came out with a line of princess-inspired wedding dresses, aimed at that age group of young women.
"For many women, there's still a piece from childhood to want to be a princess," says Mary Beech, a Disney vice president who helps oversee development of products tied to Disney brands, the princesses included.
Drawing the line
That's exactly what worries parents such as David Williams, a father from Fond du Lac, Wis., who has a 3-year-old daughter and a 1-year-old son.
Though they've given in on a few princess items for their daughter, he says he and his wife have drawn the line on Barbie and Bratz dolls, which he calls "empty-headed girly-girl products." Coincidentally, Mattel Inc., which makes Barbie, recently won a copyright infringement battle that may mean the end of Bratz, a popular but controversial line of dolls that some parents loathed because of the diva-like attitude they encourage.
Meanwhile, Greg Allen, a father who writes a blog called Daddy Types, applauded the recent demise of Club Libby Lu, mall-based stores for girls that focused on makeovers and super-frilliness.
"As a new parent, I dreaded someday having to fight the superficial, idiotic, pop culture-worshipping chain's impending influence on my daughter," he wrote after Saks Inc., which owned Club Libby Lu, announced it would close those stores by this spring. His comments set off a lengthy discussion between those who shared his glee and those who were offended.
Copyright 2018 The Associated Press. All rights reserved. This material may not be published, broadcast, rewritten or redistributed. We strive to uphold our values for every story published.