Photo Gallery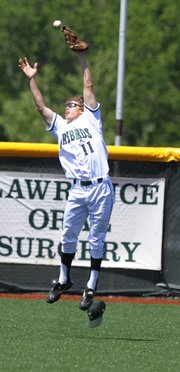 6A State Regional baseball
Now we know what it takes to steal the spotlight from a city showdown.
Destined to meet in Wednesday's regional championship baseball game at Free State High, the second-seeded Firebirds and third-seeded Lawrence High nearly didn't make it.
Thanks to bottom-of-the-seventh-inning heroics from both teams in the opening round, LHS and FSHS squared off in a regional title matchup — won, incidentally, 2-1 by the Lions, earning them a trip to state — that served as more of an afterthought to the games that were played before it.
That's thanks in large part to LHS senior Tyler Bailey.
With the Lions trailing Topeka High, 2-0, and down to their final out in the opener, LHS began to flash some grit. First, LHS junior Albert Minnis reached safely on an infield single that broke up Ty Geary's no-hit bid, and then Jake Green dug in and was hit by a pitch. Both batters faced the Lions' final strike of the season before coming through.
To say Bailey did the same would be putting it mildly. After fouling off consecutive pitches, Bailey launched an 0-2 pitch over the scoreboard in left field for a three-run home run that saved the Lions' season and gave LHS a 3-2 victory.
"The biggest part for me was just doing it for my team," Bailey said. "When I was up there, I was just thinking about this team and trying to do anything I could to keep our season going. I wasn't thinking about me being the hero."
That thought entered his mind after his second-inning solo home run in the title game, but only because the LHS fans began to chant his name.
Bailey's second homer of the night — and third at FSHS this season — tied the title game at 1 and sparked LHS to the regional championship.
"Today was just about a group of seniors saying, 'Not today, not today,'" LHS coach Brad Stoll said. "I don't think we were lucky. I just think it's the fact that, right now, these guys don't know how to lose."
Not that they didn't try.
Rare is the day when seven combined hits win two baseball games, let alone games with stakes like "regional title" and "trip to state" attached to them. But Lawrence High accomplished the feat Wednesday to run its win streak to 13 games.
As a result, the Lions (18-4) are moving on, and the Firebirds (17-5) are finished, victims of yet another season-ending loss to LHS.
"This is what we've expected to do all year," said LHS senior Dorian Green, who picked up the save in the title game by pitching a scoreless seventh. "This is just another step to get to the top."
Like the Lions, Free State advanced to the regional final after some seventh-inning drama. Tied with No. 7 Junction City at 1, the Firebirds loaded the bases by having their first three batters reach and scored the winning run when junior Nick Hassig was hit by a pitch.
In the nightcap, the Firebirds were on the wrong end of a similarly wacky play.
With LHS and FSHS tied at 1 in the top of the sixth, Aaron Rea led off with a single and was sacrificed into scoring position on a bunt by Devin Forio. Clint Pinnick then ripped a shot back up the box, but as it reached the mound, FSHS pitcher Ryan Scott knocked it down with his foot. As Scott fielded the ball and quickly threw to first, his throw pulled first baseman Cody Kukuk off the bag, negating what would have been the third out of the inning. All the while, Rea ran hard behind the play and easily jogged across home plate with what proved to be the winning run.
"Offensively, it wasn't pretty today," Stoll said. "But we made some clutch defensively plays, we pitched well, and, you know what, we won the game. Now we're headed back to state, where we feel like we have some unfinished business."
Minnis pitched six strong innings, striking out seven without a walk, to pick up the victory against Free State. Andy Urban went the distance in the opener, allowing two runs off three hits to get the win.
Copyright 2018 The Lawrence Journal-World. All rights reserved. This material may not be published, broadcast, rewritten or redistributed. We strive to uphold our values for every story published.