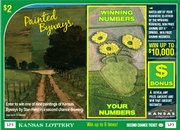 Players of a new Kansas Lottery game will be getting more than a 1-in-75,000 chance of winning $10,000.
They'll also be buying a tiny print of an original Stan Herd painting — plus a "second-chance" opportunity to win one of the original paintings Herd created for the game.
"Painted Byways" is the latest scratch-off, instant game from the lottery, set to begin by this weekend. Each $2 ticket will include a scene from one of four Kansas Scenic Byways, as painted by the Lawrence-based artist.
Herd actually created nine paintings, one for each Kansas Scenic Byway. The four featured on lottery tickets are Flint Hills, Glacial Hills, Gypsum Hills and Native Stone.
The byways program defines roadways and guides travelers through the history, beauty and features of each region.
The Kansas Lottery commissioned the paintings — each valued at $5,000 — and the nine originals will be presented as prizes to winners of the game's "second-chance" drawing. That drawing is set for Nov. 13, and the odds of winning a painting depend on how many people fill out the backs of available tickets and mail them in.
Herd plans to travel to byways communities this summer to promote the game, discuss his art and raise awareness of artistic and travel endeavors available throughout Kansas.
Officials from the lottery, Kansas Department of Transportation and Kansas Department of Commerce plan to join Herd for a formal unveiling of the paintings and launching of the game itself Thursday in Topeka.
Copyright 2017 The Lawrence Journal-World. All rights reserved. This material may not be published, broadcast, rewritten or redistributed. We strive to uphold our values for every story published.