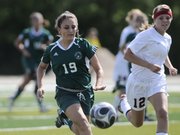 After waiting nearly the entire regular season to face each other, it took just five days for the Lawrence High and Free State High girls soccer teams to see each other on the schedule again.
At 6 p.m. today, less than a week after the Lions' 1-0 victory against the Firebirds in the annual city showdown, the teams will meet in a first-round regional matchup at LHS. The winner will advance to the regional final. The loser will be finished for the season.
The No. 4 seed Lions (7-7) enter today's contest with just one win in their last five tries. The No. 5 seed Firebirds (5-9-2) also have won just once in the past five games. Despite the rough going down the stretch, both teams gained a lot of confidence from last week's meeting and enter today's showdown expecting success.
Today's game originally was scheduled to be played at Youth Sports, Inc., the home field of the higher-seeded Lions. It was moved Monday to the new turf at LHS, the site of last week's meeting.
The winner of today's 4-5 matchup will advance to play the winner of the game between top-seeded Washburn Rural (12-3) and No. 8 seed Junction City (1-15). That game will be played Thursday at the site of the higher seed.
Copyright 2018 The Lawrence Journal-World. All rights reserved. This material may not be published, broadcast, rewritten or redistributed. We strive to uphold our values for every story published.