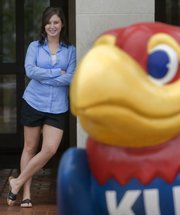 Since graduating from Lawrence High School a year ago, Quintin Rucker — a former Homecoming king and football captain — has taken a path with unexpected turns.
At this time last year, Rucker planned on attending Coffeyville Community College to play football. He is now considering a new career move: joining the military.
"You know, I wouldn't say I have changed that much, but life has changed," Rucker says.
When high school graduates are handed a diploma after 13 years of learning, it's the 12 months that follow that often bring some of life's most monumental lessons.
As graduation season approaches, we checked in with the last year's high school seniors to find out what they've learned as they ventured out into the world after high school.
Some have moved as far away as New York City, and others haven't left home. But all have advice on how to better navigate life outside the high school hallways.
Rucker says he wished he hadn't succumbed to senioritis and worked a little more on lining up scholarships.
"If you do everything right, it's just that much easier to move onto college," he says.
For Rucker, Coffeyville Community College wasn't the right fit. The transition from being the "goofy, popular guy" in high school to one that nobody knew was hard. And he was homesick.
So he moved back to Lawrence, transferred to Johnson County Community College and returned to his job at the Auto Plaza Car Wash.
As of now, he is working to lose weight so he can enlist in the United States Marine Corps this summer.
"It was something I always thought about but never knew a whole lot about," he says.
Following your dream
When Raquel Gonzalez was accepted to The Juilliard School to study classical music, it was a dream come true.
But the decision to make the jump from Lawrence to New York City was still a hard one for the former Free State High School student. Attending Kansas University would have been cheaper, and her first visit to the Big Apple was when she went for auditions.
One year later, it's choice that Gonzalez is not regretting.
"Take all the opportunities you can get," Gonzalez says.
Juilliard isn't home to the cut-throat environment that television or movies would have you believe, Gonzalez says. In fact, she says it's great to be in a place where others are pursuing the same passion she is.
"I feel so much less pressure in college than I did in high school," she says. "It's a lot more relaxing to be in a college situation. ... There's no pressure to fit into cliques."
And she's experienced the thrill that comes with living in one of the most exciting cities in the world, which means trips to Central Park, visits to world-class museum and taking in operas at the Lincoln Center.
"My family has made a lot of sacrifices to send me here, and it's really paid off," Gonzalez says.
Getting involved
At FSHS, Erin Robinson sang in the choir, was a cheerleader and presided as student body president. But when she started her freshman year at KU, the school's size made it intimidating to get involved in the same kind of activities.
Even though she stayed in her hometown, the transition into college life was one that came with adjustments and spells of loneliness.
"It was a shaky start. It was a lot bigger change than I expected it to be," she says.
Those feelings didn't last for long. Robinson joined a sorority, signed up for the choir and even won a student senate seat.
"Getting involved is really going to make your experience so much better," Robinson says. "It gets lonely spending all your time in your dorm."
To meet new people, Robinson says it helped to live in the residence halls.
"Everyone is in the same position. Everyone wants to make friends. Everyone is out of their comfort zone. People kind of have to find their bearings and go for it. But it will be worth it," she says.
Staying on her A game
Sue Schwartz might still be living at home with her parents, but that doesn't mean life hasn't changed for the former LHS student.
The KU freshman has seen a busy year, taking classes in strategic communications and working two part-time jobs: one at Peoples Bank and the other as a server for Henry T's.
"I've just gotten more responsible and mature," Schwartz says. "With those two jobs plus school, I have got to be on my A game."
Unlike high school, Schwartz says, there are no soft deadlines for class work, and the professors can be tough.
"If you don't have it done, you get an F," she says.
To keep the cost of college down, Schwartz decided to live at home. But that hasn't kept her from meeting new friends or discovering the different world that can be found on KU's campus.
"I'm still having a great time and having the college experience," she says.
Copyright 2018 The Lawrence Journal-World. All rights reserved. This material may not be published, broadcast, rewritten or redistributed. We strive to uphold our values for every story published.