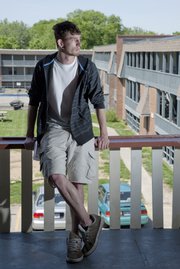 The owners of the Boardwalk Apartments are urging tenants to abandon their apartments for safety reasons, just days after agreeing to a $12 million settlement with victims of a deadly 2005 fire at the complex.
Residents at Boardwalk, 524 Frontier Road, were given written notices this weekend telling them that their leases would not be renewed. The letters also told residents that they would be allowed to break their leases immediately, and would be refunded any prepaid rents or security deposits.
"For your safety, the landlord urges you to promptly seek alternative housing," the letter states.
The news has left some residents concerned about what they'll do next.
"It basically was a blindside to everybody," said Tory Runnells, who had lived at Boardwalk for about one year.
He said residents also are disappointed that fire concerns still exist at the complex. The October 2005 blaze killed three people and injured at least 20 people — some of whom had to jump from the third floor of the apartment complex.
"I figured that they had taken care of what they needed to take care of so nobody else would die in a fire," Runnells said. "But now that I look around, it doesn't look too safe."
Attempts to reach Lawrence attorney Todd Thompson, who is representing the apartment's ownership group, weren't immediately successful Monday. But the letter to tenants said Boardwalk Apartments L.C. was taking the action because it had been informed recently that all of its apartment buildings "do not comply with fire safety standards for newly constructed apartment buildings, and may not comply with the city's fire safety code."
The letter follows a May 6 out-of-court settlement of a lawsuit filed by family members of the three people who died in the fire and six other residents who were injured.
Mike Ketchmark, a Kansas City, Mo., attorney who represented the victims, said Boardwalk's insurance company agreed to pay $12 million to settle three wrongful death lawsuits and six other lawsuits that had been consolidated into a single case in Jackson County District Court in Kansas City, Mo., which is where the apartment's management company is located.
"We were happy with the result, and obviously it was a real tragedy and our clients are very happy to put this matter behind them," Ketchmark said.
Attempts to reach several of the plaintiffs in the lawsuit were unsuccessful.
It wasn't immediately clear whether it was Boardwalk's insurance company that had advised the complex be shut down. A major allegation in the lawsuit was that the apartment complex had an inadequate fire suppression system, alarm system and escape routes. The remaining buildings in the complex — about a dozen of them — are of the same era and construction.
Lawrence Fire Marshal Rich Barr said the city had not ordered the apartment units to be vacated, and had not made a determination that the complex failed to meet fire codes.
It wasn't clear what would be done with the property in the future. Boardwalk previously had won City Commission approval to build new apartments on the site of the fire.
It wasn't immediately known how many people will be displaced by the Boardwalk closure. Runnells said many of the complex's residents are Hispanic families with children.
"I'm young, single and male. It is not going to be nearly as difficult for me as it will be for a lot of people," Runnells said. "There are a lot of kids out here."
The October 2005 fire — which destroyed 76 apartment units — killed Jose Gonzalez, Yolanda Riddle and Nicole Bingham. Jason Rose was convicted of setting the fire, and currently is serving a 10-year prison sentence.
Copyright 2018 The Lawrence Journal-World. All rights reserved. This material may not be published, broadcast, rewritten or redistributed. We strive to uphold our values for every story published.