Photo Gallery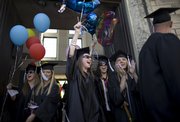 KU Graduation 2009
Members of Kansas University's Class of 2009 walked toward Memorial Stadium in near perfect weather as they prepared to leave the confines of college for a stagnant job market and struggling economy.
All that didn't dampen the celebration on Sunday, however.
As graduates lined Memorial Drive preparing to walk through the Campanile down to Memorial Stadium, some stood out in the sea of black robes.
Tasia Rayton, an economics major originally from Lawrence who went to high school in Austin, Texas, had devised a way for her friends and family to see her as she walked down the hill.
She had attached a number of balloons to her mortarboard cap, including one at the very top with a sign taped to it that clearly read "Tasia."
"I don't think anybody else has this name who's graduating," she said. "There might be one that says 'Tasha.'"
The university's 137th commencement ceremony was the last for Chancellor Robert Hemenway in his position — he will step down this summer.
He received a standing ovation from the students, and then told them that his tenure at KU was marked by a time of change.
He encouraged the more than 4,000 graduates to embrace change and be willing to take risks.
"Never let the promise of hope lose its power and brightness," he said. "Take the risk. Seek to change your world and the world around you."
He said he had seen technology change around him during his tenure, and he told the students that he was on Twitter (under the username BobIsTheBomb41, for those interested in following him), and joked that he had been using the social networking site to check up on them.
Facing a struggling economy, many of the graduates said they intended to pursue other paths than entering the workforce right away.
Four graduates from the Sigma Kappa sorority had assembled before the march into the stadium, and they said the experience was bittersweet for them.
"We're moving away from everybody," said Megan Kopff, who was graduating with a business degree in finance. "It's depressing."
None of the four had a full-time job lined up. Two were headed to grad school — one of them after taking a year off — and the other two were headed into internships.
"I just don't believe it," said Hannah Hartman-Frost, a journalism graduate from Prairie Village. "It just doesn't seem real."
Donna Shank, chairwoman of the Kansas Board of Regents, addressed the crowd, and told the graduates that though they faced "significant challenges" ahead, getting a college degree was one of the smartest decisions they could make.
"You have already taken the biggest and most important step," she said.
She also took time to thank Hemenway, and listed some of his accomplishments at KU — athletic achievements and pursuing National Cancer Institute designation seemed to draw the loudest applause from the students.
Sunday's weather featured temperatures that hovered around 70 degrees and a clear, sunny sky.
It all resulted in an atmosphere perhaps best summed up by Joshua Shireman, who was graduating with a master's degree in education.
"It's a beautiful day. I'm just relaxing," he said. "It's just great to spend time with family and friends."
Copyright 2018 The Lawrence Journal-World. All rights reserved. This material may not be published, broadcast, rewritten or redistributed. We strive to uphold our values for every story published.