Photo Gallery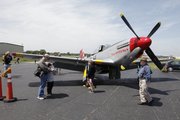 Lawrence airport celebrates 80 years
The power of the plane — whether it be a vintage 1930s model, brand new experimental aircraft or just ones made out of newspaper — drew thousands of people to the Lawrence Municipal Airport on Saturday.
As part of its 80th anniversary celebration, the airport played host to a flurry of activity. Antique planes were on display, model airplanes were being flown, a paper airplane contest took place and plane rides above Lawrence for $40 apiece were being offered.
"We have a range of citizens out here today," Lawrence Assistant Public Works Director Mark Thiel said. "You can just see the excitement when they are looking at the aircraft."
Indeed, the young and old competed in the morning's paper airplane competition, hosted by The World Company.
Among the enchanted was 69-year-old Bill Campbell. He has been a fan of airplanes since boyhood, recalling the sight of bombers flying overhead his home in Topeka and visiting a B-36 aircraft at Forbes Air Force Base.
On Saturday, Campbell and his 8-year-old grandson were competing in the paper airplane competition. His plane, folded like a shuttle, won the best decorative plane contest in the adult division.
"I've loved airplanes since I was young. I started building them when I was 5," Campbell said.
Campbell wasn't the only paper airplane enthusiast. Ten-year-old Trey Georgie won the 17-and-under division in the distance competition with a throw of 28 feet.
After testing out planes in his neighborhood cul-de-sac, Georgie decided to go with a design he named the "Jared Plane" after the friend who taught him how to fold it.
"I like airplanes. I think they are cool," said Georgie, who folds 20 to 30 planes a week.
That's nothing compared with the Burenheide family. Austin, 6; Cole, 8; Brianna, 10; and mom Katie have folded more than 300 paper airplanes on their quest to beat the Guinness Book of World Records for the number of paper airplanes folded.
They are "not even close" to breaking it, Katie Burenheide said. But Saturday's event was a chance to add to their collection and see the real things.
Copyright 2018 The Lawrence Journal-World. All rights reserved. This material may not be published, broadcast, rewritten or redistributed. We strive to uphold our values for every story published.