On the street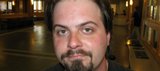 Yes, I have. (I got) some good furniture, a great high-back red chair, a TV stand, a couple of good things.
Past Event
When: Saturday, May 16, 2009, 7 a.m. to 2 p.m.
Where: Lawrence Fair Grounds, 2110 Harper St., Building 1
-->
-->
When it came time for sophomore Steve Frost to get rid of his entertainment center, he didn't think about selling it and pocketing the cash or throwing the center out on the curb.
Frost, 20, decided to donate it to Kansas University's third annual Greek Garage Sale. Proceeds from today's sale will help build homes in Douglas County through Habitat for Humanity. "I know the money's going to a good cause," he said.
The sale is sponsored by the Panhellenic Association and Interfraternity Council.
Frost isn't the only college student donating furniture this year. And that means the selection of curbside shopping could be a bit slimmer this Dumpster-diving season. Courtney Kincaid, sophomore and planner of this year's Greek Garage Sale, said students have donated desks, lamps, couches and a lot of clothes.
"Students are ready to get on with summer," she said. "It's easier for them to just give their furniture away" than to try to sell it.
Last year, the garage sale raised more than $3,000 for The House that Greeks Built — a division of Habitat for Humanity that builds homes in Douglas County.
KU Student Housing and the campus Environmental Stewardship Program have joined again this year to collect items. Participating organizations include Just Food, Planet Aid, the Lawrence chapter of Habitat for Humanity and United Way of Douglas County.
Celeste Hoins, stewardship program manager, said students had already matched last year's donations, even before collections were completed on Friday. Goodwill has also seen an increase in student donations of furniture, said processing manager Kevin Athey.
Although donating might have cut into Dumpster-diving success so far this year, Hoins said she expects furniture to be available in the alleys and on the curbs June 1, when renting leases close.
Copyright 2018 The Lawrence Journal-World. All rights reserved. This material may not be published, broadcast, rewritten or redistributed. We strive to uphold our values for every story published.