-->
On the street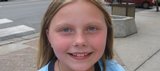 IHOP. I like the seasoning on them.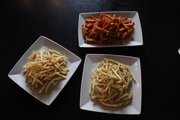 The french fry.
From its humble beginnings in Belgium (not France), the fried potato became an American classic with the rise of our fast-food nation, and now it's become the latest dish to be given a foodie revolution redux.
For an illustrated example, look no further than the menu board at The Burger Stand at Dempsey's, 623 Vt. The list is as decadent and gourmet as one can get in the french fry world: sweet potato fries, truffle fries, duck-fat fries.
These are not the spuds you'll find in little white envelopes at your local drive-through. And they're not meant to be, says Codi Albright, co-owner of The Burger Stand.
"Going with the whole gourmet-burger theme, they thought doing something unique to the fries was going to be what would work best for the situation we're in," Albright says of chefs Robert Krause and Simon Bates, who collaborated on the menu.
Each fry has been tweaked to create a gourmet flavor, says Albright. The sweet potato fries have been kicked up with cumin, cinnamon and sugar. The truffle fries are tossed in a butter made from three different truffle products. As for the duck fat fries, a bit of orange zest, herbs and shallots are meant to balance the "creamy" heaviness of the special cooking fat.
In addition, every sauce that is served with the fries has something extra to it: there's a cherry-pepper ketchup, guajillo chile dip and roasted garlic aioli.
"They're a fry, you expect a certain flavor, and you get it," Albright says. "And to be able to change that a little bit while still maintaining some of the familiarity of the actual fry itself and kind of that comfort that it has, I guess, to complement a meal, is cool."
Even fries that don't have gourmet written all over them go well beyond the basic frozen fry dreamed up in the 1940s by J.R. Simplot — the man who helped McDonald's revolutionize dining in the 1960s.
The folks at 5 Guys Burgers & Fries, 2040 W. 31st St., spend a good chunk of time each morning cutting the day's fries out of potatoes shipped in 50-pound bags, says manager Jessica Gipp.
"It's down to an art form here," says Gipp, who adds that the potatoes the company uses are grown just for 5 Guys. "With the fries, once they're cut they have to soak under running water that runs clear for 15 minutes to help remove all the starch off all the potatoes. And even with the cooking process, they have a blanching where they get cooked for two minutes. And then they sit for two minutes and then they have a final cook process of two minutes. It's like a science, but it's a little bit more of an art form."
Also working with whole potatoes each morning are the folks at Local Burger, 714 Vt., says owner Hilary Brown. She says that because of her restaurant's commitment to local food, real potatoes are the only option, even if it means using different types of potatoes — from russet to yukon — throughout the year.
"I want to be able to use real potatoes because, hopefully, as the local food market continues to grow over the next decade, I'm assuming we'll have a lot of potatoes around here and some that we may be able to store throughout the year, so we're always using local potatoes," Brown says. "It just meant a lot to me to be able to purchase real potatoes."
Beth Beaver, a bartender at Vermont Street BBQ, 728 Mass., believes the demand for fries can only go up. She says that though not labeled gourmet, the fries at her restaurant are incredibly popular, with folks sometimes going for just baskets of sweet potato fries or regular fries that are hand-seasoned in the back.
"Everybody loves fries," Beaver says. "I like fried food a lot, I think a lot of people love fried ... greasiness.
"I'm all for it."
Copyright 2018 The Lawrence Journal-World. All rights reserved. This material may not be published, broadcast, rewritten or redistributed. We strive to uphold our values for every story published.