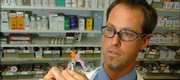 An outbreak of H1N1 Swine Flu was reported in Mexico in April 2009. By the end of May, it had spread across the U.S., with all 50 states reporting cases.
Topeka — A Fort Riley soldier has been diagnosed with the latest confirmed case of swine flu in Kansas, health officials said Tuesday, bringing the state's total to 23 cases.
Lisa Madrano, spokeswoman for Irwin Army Community Hospital at Fort Riley, said the soldier went to the hospital Monday with symptoms. A test was conducted and confirmed by the Kansas Department of Health and Environment in Topeka.
Madrano said the soldier was placed in home isolation and confined there until he recovers, and no other cases are suspected. The Geary County Health Department and Army medical staff are trying to determine how the soldier came in contact with the virus.
There are more than 15,000 soldiers assigned to Fort Riley, though several thousand are currently deployed to Iraq.
In 1918, Fort Riley was the site of an outbreak where hundreds of soldiers came down with the deadly flu that by some historic accounts killed as many as 50 million people worldwide. According to the Kansas Historical Society, a soldier reported ill on March 4, 1918, and within three weeks more than 1,100 soldiers were sick.
The flu is believed to have spread to the rest of the United States and Europe as soldiers who trained at Fort Riley's Camp Funston were shipped out for combat duty in World War I.
"This being the origin of the last outbreak, it's in the back of people's mind," Madrano said. "Back then they didn't understand how to arrange the barracks and the beds to prevent that social contact."
Madrano said health officials were urging soldiers, family members and civilian employees to take precautions to keep the virus from spreading this time around.
Other confirmed swine flu cases in Kansas include two in Dickinson County, nine in Johnson County, one in Ottawa County, one in Sedgwick County and nine in Wyandotte County. Eight of the nine in Wyandotte are children.
The state health department has established a phone line for concerned Kansans to call with questions about swine flu. The number is 1-877-427-7317. Operators will be available to answer questions from 8 a.m. to 5 p.m. Monday through Friday.
Copyright 2018 The Lawrence Journal-World. All rights reserved. This material may not be published, broadcast, rewritten or redistributed. We strive to uphold our values for every story published.