-->
On the street
I do broadleaf fertilizer before the year starts and then I dig them out as the year goes on.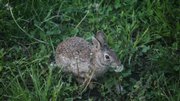 You may have noticed an increase of yellow and white dotting all the green recently. Perhaps you even have a backache from trying to get rid of it.
An increase in the number of dandelions in the community is the result of a significant amount of rainfall eight months ago, according to one Lawrence garden expert.
Ann Peuser, owner of Clinton Parkway Nursery, said the 16 inches of precipitation the area experienced over several days in September presented perfect conditions for dandelion growth this spring. The weeds germinate in August and September, mature in the spring and are best controlled around the end of October, she said.
Diana Brookshire, of Lawrence, said she's certainly noticed the increase in dandelion growth, as she's working hard to keep her yard free of them.
"If you want a nice-looking yard, you do not want too many dandelions sprouting up with their little white, fuzzy heads," Brookshire said.
While Peuser said all the weeds popping up have been good business for weed-killer sales, Brookshire said she's been using vinegar to kill them off.
"That has worked very well," she said. "It's cheap and it doesn't hurt the environment."
The weeds are also noticeable and prevalent in city parks and along the city's rights of way. Mark Hecker, Lawrence parks superintendent, said the city has received a handful of complaints.
Hecker said that it would be cost-prohibitive for the city to rid the more than 3,000 acres of park space and other city land of the weeds, since they spring up only for a relatively short time each year.
"For the most part, we just ride it out," he said. "We spray only really high-profile areas like ball diamonds and golf courses."
Peuser said dandelions will continue to mature through June, though we're past the peak growing season.
"You'll still see quite a few," she said. "Mother Nature has a lot of insurance policies and one of them is not everything sprouts on the same day."
Some things you can do to fight dandelions
If you have dandelions in your yard, Ann Peuser, owner of Clinton Parkway Nursery, said you can:
• Pull them, but try to get as much of the root as you can so they won't regrow.
• Use weed killer, though it may require multiple treatments.
• Live with them; they'll be gone by July.
To avoid dandelions next year, Peuser said you should:
• Reseed your yard if the dandelion growth is thick, but talk to a professional about when to begin the process.
• Treat your yard with weed killer around Halloween, when the growth begins.
• Hope for limited rain in September and October, when the weeds germinate.
Copyright 2018 The Lawrence Journal-World. All rights reserved. This material may not be published, broadcast, rewritten or redistributed. We strive to uphold our values for every story published.