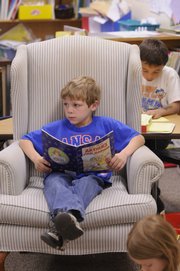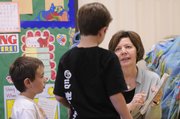 For Janine Monaghan, restless first-graders are the best kind. Keeping them focused is a worthwhile challenge for Monaghan, not an endless battle.
"First-graders really like school and are pretty excited about coming to school," says Monaghan, who teaches at Deerfield School.
So when the weather is nice outside and school is out in just a few days, Monaghan does her best to stick with the schedule and provide opportunities for hands-on activities.
"I try to keep the schedule the same," she says. "If that stays successful, that is security for them. They stay on task better."
Right now Monaghan's students are observing aquariums. She keeps fish in the room, and students have the opportunity to look at them with magnifiers.
"I try to do fun projects," she says. "We do a lot of interactive things."
When it comes to drier topics like math, Monaghan says she allows the students to work in teams, which allows them to work together to solve problems.
Sometimes, Monaghan says a student will raise his or her hand and say something unexpected, something off-topic, something downright funny.
"Someone might raise their hand and say, 'I have a loose tooth,'" she says. "Or, 'My grandmother is coming to visit.'"
When that happens, Monaghan says she just smiles and moves on with her lesson.
"You have to have a lot of flexibility and a lot of patience," she says. "That's just being a first-grader. They aren't trying to be naughty."
As children get older, Monaghan says they become more focused and are able to sit still for longer. Even still, Monaghan says some students are just naturally squirmy — especially in the first grade.
"It's real individual," she says. "Some children are very focused when they are younger, and you can see the kids who aren't."
Even subjects like reading can be exciting, Monaghan says. It's all about the presentation and the way students learn.
"We change books a lot," she says. "You have to have a lot of hands-on activities because they don't sit still for too long."
Kea Wormsley, a counselor at Schwegler School, says it's perfectly natural for students' minds to wander a bit at the end of the school year.
"Most students work hard all year and are ready for a break," she says.
She says teachers often add in special projects or field days to keep students interested in school. Basically, mixing it up keeps their minds focused on learning.
And, Wormsley says, teachers often have a few tricks up their sleeves. Reinforcers such as extra recess, snacks and prizes reward good behavior and hard work, and even pep talks can help students stay on task.
Her message for parents: "Continue to encourage good work habits, being responsible for homework and talking about how important it is to build these skills to get ready for the next grade."
Her message to students: "We can have fun while we learn. Work now to prepare for the next year — most students are excited about growing up and feel good about going to the next grade."
Copyright 2018 The Lawrence Journal-World. All rights reserved. This material may not be published, broadcast, rewritten or redistributed. We strive to uphold our values for every story published.