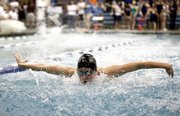 Olathe — If nothing else, Friday's first day of the Sunflower League swimming championships at California Trail Junior High demonstrated one thing: Lawrence High and Free State High both have elite-level teams.
Swimming at less than full strength and watching their rosters become even more depleted as the meet went on, the Lions and Firebirds combined to finish first in eight of 12 events and left the pool still in the hunt to bring home top-four finishes from today's finals.
The Firebirds, who finished second at last year's league meet, snagged six of those eight first-place qualifying spots, buoyed largely by the performances of Molly Albrecht, Morgan Flannigan and Chloe Portela. All three picked up individual first-place qualifying spots — Albrecht in the 200 free, Flannigan in the 500 free and Portela in the 100 butterfly and 100 backstroke — and teamed to lead Free State to the top spot in two relays.
Those three Firebirds were more concerned about their teammates than their results following the meet. Fellow phenom Reilly Moore, who swam the second leg in the team's 200 medley relay and qualified for the finals in the 50 free, dropped out of the meet after injuring her shoulder during the 100 breaststroke. Hours earlier, junior Heather Clark left the meet after becoming ill before the first event.
"It was a tough day," FSHS coach Annette McDonald said. "But we're going to sit down and score it out and see what we can do to save it. We'll come away with some wins and do the best we can. We can't change what happened today."
McDonald was unsure whether Moore or Clark would return today. Those who will be there said the absence of their teammates means everyone else will have to step up for the Firebirds to have a chance at the title.
"It just makes you realize how much of a team sport swimming is," Albrecht said. "You really have to have everyone do well for your team to have success."
The song was the same for LHS, who swam without superstar Jessica Boyer (mononucleosis) and an alternate who had fallen ill: Allie Edmonds.
Still, behind two first-place finishes from freshman Emma Reaney (200 IM and 100 breaststroke), the Lions positioned themselves to finish in the top four at today's finals.
"We were really looking for fourth coming in," LHS coach Kent McDonald said. "And we may still be in the running."
Joining Reaney in qualifying for today's finals were: Elle Weber (200 IM and 100 breaststroke), Sarah Schwartz (100 butterfly and 100 backstroke), Erina Houk (500 free) and Rachel Buchner (100 backstroke).
Other Firebirds who qualified for today's finals were: Kara Mishler (100 butterfly), Kayla Hedges (500 free) and Adrianne Black (500 free).
The city will be represented in the finals of all but one of today's events (100 free) and will have four of the six finalists in both the 100 backstroke and 500 freestyle.
"This is definitely a big point in the season for our team," Houk said. "And I'm pumped for the finals. I'm really pumped. It should be a lot of fun."
Today's finals will begin at 9 a.m. with the preliminary rounds of the one-meter diving. Finals will begin at 1 p.m.
Copyright 2018 The Lawrence Journal-World. All rights reserved. This material may not be published, broadcast, rewritten or redistributed. We strive to uphold our values for every story published.