Photo Gallery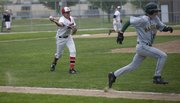 Lawrence High baseball vs. Shawnee Mission South
Who knew Albert Minnis had feet and vision?
Four days after striking out 14 batters in a 1-0 victory against Olathe East, Minnis flashed his skills at the plate Tuesday during Lawrence High's 2-0 victory against Shawnee Mission South at Ice Field.
Minnis, back in the Lions' batting order for just the second time since injuring his right hand in a loss to Free State on April 11, finished the day 2-for-3 with an RBI and a run scored.
"I pitch," Minnis said. "But I also like to hit a little bit. It's always nice to show people I can play the game and that I'm not just a pitcher."
In three at-bats Tuesday, Minnis drove the ball to the opposite field twice, showing a maturity at the plate that wasn't there early in the season.
In the bottom of the first, he stroked an RBI single to right field that scored second baseman Devin Forio, who had doubled two batters earlier.
Three innings later, Minnis rocked a ball off the right-field wall for a one-out double. Moments later, the junior stole third and scored the Lions' second run when the throw from SMS catcher Seth Wheeler sailed into left field.
"We have to find ways to win games differently," LHS coach Brad Stoll said. "And today, our ability to steal bases helped us out."
When asked if his speed and savvy on the base paths was another well-disguised part of his game, Minnis did not hesitate to answer.
"That's our game," he said. "The whole Lawrence High way is playing hard and making people make mistakes. We're doing a great job of that right now and it's really paying off."
While the Lions pride themselves on forcing others into mistakes, they also emphasize limiting their own.
Starting pitcher Dorian Green took the lead in that department on Tuesday, pitching a complete-game shutout — his second of the season — while striking out six Raiders and walking just two.
Green threw 89 pitches Tuesday and moved to 2-0 on the season while lowering his earned-run-average from 1.40 to 1.04.
After scattering three strikeouts throughout the first six innings, Green struck out the side in the seventh, first by overpowering the first two Raiders he faced and then by throwing two back-breaking curve balls to retire the final batter.
"I wasn't really trying to strike guys out," Green said. "I was just trying to make good pitches. I just wanted to get the game over with as fast as possible."
Perhaps Green was anxious to get to the postgame festivities that awaited the Lions and their fans. Inspired by the zany rituals made famous by minor league baseball owners, Stoll designated Tuesday as "Pie Day" at LHS. Along with assistant coach Adam Green and LHS faculty members David Platte and Steve Nilhas, Stoll and Co. encouraged LHS students to toss cream pies into their faces behind home plate after the game.
"I guess I'm the Bill Veeck of the Sunflower League," said Stoll, referring to one of baseball's wildest owners. "Anything to get as many kids in the stands as possible."
Lawrence (13-4) will take on Olathe South at 5:30 p.m. Thursday at Ice Field.
Copyright 2017 The Lawrence Journal-World. All rights reserved. This material may not be published, broadcast, rewritten or redistributed. We strive to uphold our values for every story published.