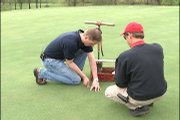 Editor's note: Reporter Mark Boyle takes us behind the scenes of news stories in the area. This week, he laid down the golf clubs and picked up the tools necessary for manicuring the greens at Alvamar Country Club in Lawrence. He quickly found out that much like playing the game of golf, successfully preparing the course for daily play is also something that takes practice.
They're the ones shutting off the mower engines, hiding behind trees and doing their best to blend in to the surroundings while you're out playing a round of golf. But unlike Bill Murray's unhinged groundskeeper character "Carl" in the golf comedy "Caddyshack," members of the grounds crew at Alvamar Country Club typically stay out of the spotlight and let their work take center stage.
I met up with Darin Pearson, superintendent at Alvamar Country Club, on the club's practice putting green, where he introduced me to a mower that is specially designed to cut golf course greens.
"Within about 10 minutes I can teach you to use the mower, and then it just takes time to get the hang of it," Pearson said.
Assistant Superintendent Bryon White says that time is of the essence when getting work done around the golf course. "Normally you go as fast as you can because we have 18 to get done in two hours," he said.
After I nearly mowed off the collar of the practice green, we all decided mowing wasn't for me. We then moved to the 18th green to learn how to change a pin location. Alvamar Country Club changes hole locations on a daily basis, moving them around the green in a counter-clockwise fashion. Friday afternoon we moved the previous day's pin five feet to the left and down closer to the second-tier ridge.
The most important lesson I learned during the trip to Alvamar Country Club was how to properly fix a divot on the green. Pearson say many golfers make a mistake and end up injuring the green while trying to repair it.
Pearson says it's best to start with a good divot repair tool.
"We are going to push back in from each side of the ball mark and then just grab your putter and fix it right back," Pearson said. "You never want to go in and lift up because I am hurting the root structure, plus I am bringing dirt back up to the surface."
One thing is for sure, while most of us tackle the golf course for pure enjoyment and fun, these grounds crew members consider golf course care a serious business, and the course conditions at Alvamar Country Club prove that.
Copyright 2018 The Lawrence Journal-World. All rights reserved. This material may not be published, broadcast, rewritten or redistributed. We strive to uphold our values for every story published.