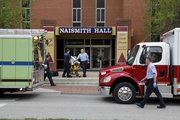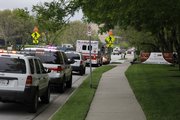 Lawrence police are investigating the death of a Lawrence teenager who was found Friday morning in Naismith Hall, 1800 Naismith Drive.
A police spokeswoman said Friday that foul play is not suspected. The teenager's name was being withheld pending notification of his family in both Lawrence and Kansas City.
Friday night, the spokeswoman said the notification process was still ongoing, and police had no timeline for when it would be completed.
The deceased is not a Kansas University student, but because of the number of students who live in Naismith Hall and its proximity to campus, KU is making counselors available to students.
Naismith Hall is a private, off-campus residence hall and not part of KU's Department of Student Housing.
Copyright 2018 The Lawrence Journal-World. All rights reserved. This material may not be published, broadcast, rewritten or redistributed. We strive to uphold our values for every story published.