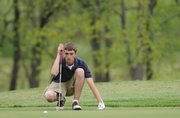 Coach Matt Gudenkauf hasn't discussed the importance of "the streak" with his Free State High boys golfers just yet.
There are too many other things to worry about during the early season, Gudenkauf said. Like honing his golfers' short games or getting them acclimated to the golf course again or even remembering what it's like to play in nice weather.
Still, that streak sticks in his mind: The Firebirds have qualified at least one boys golfer for state in every year since the school came into existence in 1997.
Which is why he'll make sure to raise the subject as a topic of conversation with his golfers. At some point, at least.
"This early in the season, I don't really get into all that," Gudenkauf said. "But once we get a little closer, I definitely do."
Gudenkauf has good reason to believe the Firebirds' remarkable run of qualifying golfers for state will continue again this season.
Among the reasons for that positive outlook is senior Seth McCauley, who helped keep the state streak alive last season as the lone Free State postseason qualifier.
Free State returns a core group of four golfers who contributed mightily on varsity a season ago, including McCauley.
Parker Liebl, Dale Shillington and Jake Miller will join McCauley in the varsity rotation. All are seniors now, as are golfers Zack Korte and Will Pellett. That leadership should pay dividends this year, according to Gudenkauf.
"They're excellent role models for my younger golfers," Gudenakuf said. "They know the rules real well. They just really portray what I want to see in Free State golf."
Like Free State's squad, Lawrence High returns several of its top golfers from a season ago.
At the top of that list is senior Spencer Scott. As a junior, he was the Lions' No. 1 golfer all year, providing consistent low scores in the Lions' lineup. Scott qualified for state in his first two varsity seasons at Hays High before transferring to Lawrence last season, where he failed to make state for the first time.
Coach Dirk Wedd doesn't anticipate that happening again this season.
"It was a little wake-up call," Wedd said. "But I think he's got a burning desire to get back to state."
Also back this year is junior Jon Cohen, the only returning Lion who qualified for state a season ago. Scott, Cohen, Joe Noller and Alex Thompson should hold down the top four varsity slots in the Lions' rotation.
Wedd said several golfers were in the running for the Nos. 5 and 6 spots.
Juniors Steven Melton and Tyler Kahn, as well as seniors Spencer Hutchens and Kyle Consolver could see action in varsity tournaments this season.
"I'd be very disappointed if we didn't go to state as a team," Wedd said. "If you can compete in the Sunflower League, you can do well at state. It's by far the toughest league in the state."
Veritas Christian returns three of its top six golfers from a season ago. Head coach Greg Capps fields a team of 14 golfers, including two girls — Stephanie Nystrom and Katie Brown — since the Eagles do not field a girls golf team.
Senior Taylor Zook returns, along with Blair Capps and Nick Gardner. All three should provide leadership and post the lowest scores on the team this season. Hogan Randall also should compete for a top-six spot as well.
"I'm encouraged that even though we may be real young that we may end up being better than last year," said Capps, whose team finished fourth at the KCAA state tournament a season ago.
Capps said the biggest area his team needed to improve upon was consistency and ball striking.
Seabury Academy, meanwhile, fields a team of six golfers, three of whom participated on the varsity squad a season ago.
Leading the way once again for the Seahawks will be sophomore Reed Grabill. Grabill qualified for the Class 1A state tournament last year. Seabury's coach, Eric Edwards, said he had high hopes that Grabill could make a return trip to state.
"He's a talented player who's got a good swing," Edwards said. "The sky's the limit for how hard he wants to work."
Joining Grabill on the varsity squad are returning golfers Austin Barone and Brant Moeller. Edwards said Barone had an excellent shot at qualifying for state individually this season, while Moeller's development as a varsity player would be crucial to the team's success.
Rouding out the Seahawks' varsity lineup will be junior Dan Simons, sophomore Sam Yoichi and freshman Kale Joyce.
Edwards said sending the entire team to state could be an outside possibility.
"My true goal is qualifying two to three golfers for state this year," Edwards said. "I think that's pretty realistic from the guys that I've got coming back."
Seabury starts the year on April 6 with a dual meet against Barstow at Alvamar.
Vertias also tees off on April 6 at Flint Hills Christian in Manhattan at Colbert Hills.
Both Free State and Lawrence start the season today at the Blue Valley West Invitational.
Copyright 2018 The Lawrence Journal-World. All rights reserved. This material may not be published, broadcast, rewritten or redistributed. We strive to uphold our values for every story published.