Photo Gallery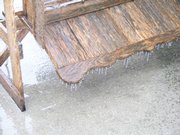 Winter weather photos: March 28, 2009
Have weather-related photos from the snow and ice? You can submit them at http://www2.ljworld.com/submit/weather_photos/
-->
2:02 a.m.: De-icing crews are heading to the Kansas River bridge in response to reports of slick spots forming on Second Street. Temperatures are just below freezing, at 30 degrees.
5:46 p.m.: The National Weather Service reports light snow and sleet moving out of the area. It has canceled the winter storm warning for Douglas County.
5:33 p.m.: The snow has finally arrived. Flurries have strengthened in the last 15 minutes, but no snow has accumulated yet. Douglas County remains under a winter storm warning until 7 p.m.
5:19 p.m.: In the past 24 hours, 1,663 Westar Energy customers have lost power. As of 5 p.m. Saturday, all but 131 of those customers have had the power restored.
A map on the company's Web site show outages occurring in a section of south west Lawrence and two areas north east of the city limits.
Westar spokeswoman Erin La Row said that customers could continue to lose power.
"Melting ultimately is good for us. But the melting itself can cause additional outages because branches spring back into place," she said. "Hopefully, we will get everyone's power restored and we will soon be able to put this storm behind us."
4:18 p.m.: A host of flights are canceled or delayed at the Kansas International Airport this afternoon due to winter weather. The Associated Press reported that the airport was shut down for two hours and 15 minutes before reopening around 3:30 p.m. Airport officials said their field maintenance crews couldn't keep up with waves of freezing rain and snow that began moving into the Kansas City area Saturday morning and that conditions had been too slick for aircraft to operate safely.
1:21 p.m.: The precipitation has changed over mostly to snow mixed with a little bit of ice in west Lawrence. Forecast still calls for 2-4" of snow in the area.
12:33 p.m.: Wintry sleet and freezing rain mix coming down right now.
12:13 p.m.: Tree blocking the road in the 600 block of Missouri Street.
11:51 a.m.: Now 5,015 without power in Butler County.
11:38 a.m.: Governor Kathleen Sebelius signed a state of disaster emergency declaration following a torrent of winter weather in central and southwestern Kansas.
"It is important that we ensure Kansas counties have the resources they need," Sebelius said in a media release. "This storm system has hit parts of our state hard, left many residents without power, forced numerous roads closed and resulted in multiple accidents, including one fatality."
Counties included in the declaration can be found here.
11:24 a.m.: Westar Energy is reporting that 18,530 Kansans are without power. More than 10,000 of those outages are in Butler, Sedgwick and Lyon counties.
Temperatures still stuck at 32 degrees in Lawrence. KDOT is reporting that many roadways west of Topeka are snowpacked. Crews are treating and plowing.
10:53 a.m.: Quite a few closings and cancellations today. The latest: Missouri Repertoire Theater's production of Charlotte's Web at Lawrence High School Saturday night has been canceled. Click for a complete list of weather-related closings and cancellations.
Ice is building up on trees and power lines around town.
10:39 a.m.: Accidents and rollovers have been reported in the Topeka from freezing rain and sleet. Lawrence is currently experiencing light rain. The temperature is right at 32 degrees.
10:24 a.m.: A power line was reported down about seven miles south of Eudora. Westar en route to repair.
Roads are reportedly getting slick in Topeka. Rain continues to fall on Lawrence, but major streets aren't getting icy quite yet.
10:02 a.m.: The latest predictions from the National Weather Service call for 2-4 inches of snow this afternoon. Currently, there is freezing rain and sleet in the Lawrence area. The NWS says this will gradually change to snow as the day goes by.
Westar is now reporting 17,462 power outages in the state, primarily in southwestern and south-central Kansas.
9:40 a.m.: Westar is reporting 15,855 outages in Kansas. Nearly 5,000 people in Sedgwick County are without power. Another 3,559 people in Butler County have lost power.
Nearly 80 people in Douglas County are also without power. The majority of Douglas County's outages are north of Sixth and Iowa streets.
A few weather-related traffic accidents have been reported in Lawrence.
9:26 a.m.: 6News Meteorologist Alex Harrington said Lawrence is on the dividing line for snow and rain. Secondary roads and parking lots are starting to get slick. Harrington said this morning's precipitation will likely be in the form of heavy freezing rain and heavy sleet.
The Kansas Department of Transportation is treating roads with a mixture of salt and sand. Those who plan to travel in Kansas today should call 511 for road condition updates.
9:06 a.m.: Five inches of snow reported near Junction City.
8:57 a.m.: A winter storm warning remains in effect for Douglas County until 7 p.m. Saturday. Other counties in the watch area include, among others, Franklin, Jefferson, Leavenworth, Shawnee, Johnson and Osage.
Harrington said that Lawrence might see some ice accumulation as freezing rain continues to fall this morning.
Lawrence is currently experiencing some mixed precipitation. Harrington said he expects 1-3 inches of snow to accumulate later in the day, but there is a chance that we won't see the mixed precipitation flip over to snow.
The National Weather Service expects a mix of rain, freezing rain and sleet to continue during the morning hours. A mix of snow and sleet is expected by late morning, transitioning to just snow by afternoon.
According to the NWS, a glaze of ice or minor sleet and snow accumulations are possible this morning. They expect 1-3 inches of snow and gusty north winds of 25-35 mph this afternoon.
8:15 a.m.: A quarter of an inch of ice has been reported near Emporia.
8:05 a.m.: Saturday classes at KU will be held as scheduled. Call 785-864-SNOW for the latest cancellation information at KU's Lawrence campus.
6News Meteorologist Alex Harrington said a band of snow should make its way through the area by late morning. Sleet and freezing rain is expected for the earlier morning hours, he said.
Areas northwest of Manhattan received 7 inches of snow overnight, Harrington said.
7:37 a.m.: Douglas County Sheriff's officers reported heavy sleet near Lone Star Lake. Heavier rain has started moving into Lawrence.
7:22 a.m.: Rain has started to fall on Lawrence. We're currently only seeing a small amount of precipitation, but radar indicates that a large amount of rain and sleet is about to settle over the area.
6:51 a.m.: Streets in Lawrence are mostly dry. The Kansas Department of Transportation's road condition map shows that highways in northeast Kansas are slightly wet or slushy. They say that U.S. Highway 75 north of Topeka is partially snowpacked, while Interstate 70 west of Topeka is completely snowpacked.
If you're curious how roads are looking elsewhere in the state, check out KDOT's road cameras.
Radar indicated at 6:52 a.m. that snow was starting to fall just north of Oskaloosa. Rain was starting to fall just south of Clinton Lake.
5:56 a.m.: Still no snow at 5:56 a.m. Even if it doesn't come down in heaps today, these people will be stocked for the weekend.
5:27 a.m.: Nearing 5:30 a.m., Lawrence looks almost the same as it did five hours ago.
The snow has not yet hit, and the precipitation trailed off before stopping entirely. The temperature is 33 degrees.
Radar shows most of the winter weather sitting northwest of Lawrence, near Manhattan and Salina.
The National Weather Service still predicts Lawrence will see snow, freezing rain and sleet before 7 a.m.
12:47 a.m.: The U.S. Highway 40 bridge that runs over Kansas Highway 10 is reportedly "iced over."
12:00 a.m.: As of midnight Saturday, March 28, the snow has not arrived in Lawrence.
Light rain has continued sporadically for most of the night, with some sleet mixed in.
The current temperature is 34 degrees - down just one degree in the past three hours.
Updated radar shows a large swath of precipitation moving northward slowly toward Lawrence and Topeka.
Click here for yesterday's weather updates.
Copyright 2017 The Lawrence Journal-World. All rights reserved. This material may not be published, broadcast, rewritten or redistributed. We strive to uphold our values for every story published.