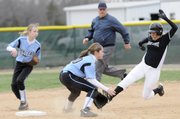 Several members of the Free State High softball team had been waiting for this day for quite some time.
They just had no idea it would end with them in the same spot they spent all of last season.
Monday's season-opening doubleheader against Shawnee Mission East marked the return of seniors Maggie and Rosie Hull. The two all-state players missed all of their junior seasons, but were back in the lineup Thursday for the opening game of their senior seasons.
"It felt so good to have them back," junior catcher Lauren Fox said. "And not just because of their skill sets. They just pump everyone up and are such a positive influence on the team."
Unfortunately, they were only able to stick around for 10 of the night's 14 innings. Because of Free State High's annual talent show known as Encore, the twins had to leave the field early to get changed for their performance. That left the Firebirds short-handed for the final four innings of the nightcap, a game that had a 30-minute delay because of a substitution error.
Had the error never occurred, the Hull twins likely would have had one more at-bat apiece. In a game they lost, 5-3, that might have been enough.
"That was really disappointing," Fox said. "Especially because they're our two best hitters, and they didn't get another chance to hit."
Despite leaving early, the twins made the most of their time at the diamond. From their respective positions in center and right field, Maggie and Rosie made several solid snags in the outfield and brought a confidence and a swagger to the Firebirds' defense.
At the plate, Rosie led off the third inning of Game 1 with a single and later scored when freshman Samantha O'Brien drove a sacrifice fly to deep center field. That opened the door for a three-run fourth, and the Firebirds held on to win the opener, 4-3, behind seven strikeouts and a complete game from junior hurler Megan Smith.
Three of the four FSHS runs in Game 1 were unearned, but that did not bother Smith a bit.
"We were all really nervous," Smith said. "But especially me because it was my first time as the starting pitcher. I thought I did OK. I could've done some things better. But it just felt good to get back out there. And it felt good to get the win."
The only real blemish on Smith's outing came from SM East sophomore Haley Fosnough-Biersmith, who belted two home runs to left field, a solo shot in the second and a two-run dinger in the fourth.
Fosnough-Biersmith finished 0-for-3 in Game 2, including a seventh-inning strikeout that Smith said helped make up for the two homers.
SM East (1-1), which had not won a game since 2006, scored three runs in the first and added another in the second inning of the Game 2 victory.
Despite splitting the doubleheader with a jumbled lineup, the Firebirds left the field feeling good about their performance and the return of their leaders.
"It would've been nice to have the second one," Smith said. "But we got the first one, and that's the one that counts for league. We're undefeated in league play."
Copyright 2018 The Lawrence Journal-World. All rights reserved. This material may not be published, broadcast, rewritten or redistributed. We strive to uphold our values for every story published.