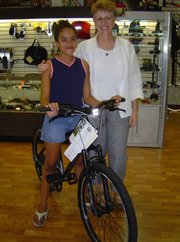 For Kids' sake
To pledge for Shai Jackson or another bowling team in Douglas County, visit kansasbigs.org/BFKS, click "Browse Bowlers" on the left and select Douglas County under the drop box. Teams can register for Bowl for Kids' Sake through April 2 by calling 843-7359.
Bowling times are as follows at Royal Crest Lanes, 933 Iowa:
• 9:30 p.m. Friday • 3 p.m., 6 p.m. or 8:30 p.m. Saturday • 5:30 p.m. or 8 p.m. April 3
Shai Jackson gained her only sister when she was 5 years old. Granted, her new sister, Mary Seyk, was 46 at the time, but in the past eight years, the two have formed a bond as deep as actual siblings.
"She was such a small little munchkin when I met her," said Mary, a volunteer with Big Brothers Big Sisters. "But now, we've transcended the program. We'll be friends forever."
Mary and Shai began their friendship through Big Brothers Big Sisters in September 2000. In their years as friends, the two have vacationed in Florida and Tennessee; they spent part of their summers in the Ozarks; they even adopted Puffin, a 5-pound poodle-mix puppy.
Big/Little matchings like Mary and Shai's have been proven to reduce the use of illegal drugs and alcohol among participating children by 46 percent and 27 percent, respectively, according to the organization.
"Mary's friendship is just more than a friendship; it's like she's my mother," Shai said.
To give other children the same gift she has been given in Mary, Shai has dedicated herself to raising money for Big Brothers Big Sisters of Douglas County. She won first place — and a new bike — by raising the most money among youths in 2007.
This year, in an attempt to raise money for the organization's largest fundraiser — Bowl for Kids' Sake — Shai turned to her eighth-grade classmates at South Junior High for help.
As a bowler, Shai must raise $135 — though her personal goal is to raise $1,000 — before 3 p.m. Saturday, when she is set to bowl. To do this, Shai decided to conduct a competition among 44 Extended Learning Time classes this week. At the end of the competition, Big Brothers Big Sisters will reward the class with the most donations with a party.
The results of Shai's competition won't be announced until Friday, but she has already raised $233.
Shai is also the captain of a six-member bowling team. If each of the bowlers raises the $135, as encouraged by the organization, the team will raise $810, enough to match one child with a mentor for one year, said development director Meg Hooper.
Big Brothers Big Sisters of Douglas County helps 500 children a year, though 100 children are still on the waiting list.
Hooper said the event has 105 confirmed teams so far, meaning this fundraiser alone has the potential to match 105 children with adult mentors. She said monetary sponsorships for the event amount to $40,000, though the goal this year is to raise $150,000.
Copyright 2018 The Lawrence Journal-World. All rights reserved. This material may not be published, broadcast, rewritten or redistributed. We strive to uphold our values for every story published.