On the street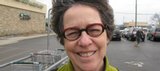 I think it's a good idea to keep our resources here in the city.
Local businesses may receive some help from City Hall on Tuesday night. Or they may get hurt.
It depends on how you view the idea of a new purchasing policy that would give city commissioners the right to buy products and services from local vendors, even if they are not the low bidder.
The idea has support from some city commissioners and businesses that serve as City Hall vendors.
"When we buy something locally, I think it is an investment of city tax dollars into the local businesses and residents who pay the tax to begin with," said City Commissioner Mike Amyx, who is pushing for the policy. "This would be money that gets put back into the community."
But staff members and some businesses have raised questions about the policy. A staff memo reviewing the idea of a local purchasing policy noted that if Lawrence adopts such a policy, other communities may adopt policies that make it more difficult for Lawrence companies to win bids in those cities.
That's the concern that Steve Glass, president of Lawrence-based LRM Industries, also has. Glass — whose company provides concrete and asphalt services — has urged the city not to adopt a local purchasing policy, especially for the construction industry.
"It is our belief that the construction industry and the taxpayers benefit by treating bids from all contractors equally rather than giving preference to local contractors," Glass said in a letter to commissioners.
Other frequent City Hall suppliers disagreed. Junior Brubeck of Lawrence-based Jim Clark Motors said he thought the potential for most Lawrence businesses to lose out-of-town sales was relatively small.
"I would think the potential reward is a lot more than the risk for us," Brubeck said.
The idea for a local purchasing policy came up earlier this month after city commissioners reviewed bids for about $200,000 worth of police cars. The low bid came from Shawnee Mission Ford, but Lawrence-based Laird Noller Automotive submitted a bid that was only $738 higher than the Shawnee Mission Ford price.
Details of how the local preference policy would work haven't been determined. In general, the policy would allow the city to select a local company — meaning a company with a Lawrence office or store — if the local company's bid is within a few percent of the low bid. A percentage of somewhere between 1 percent to 5 percent has been suggested.
Staff members said the extra costs could add up. They estimated that if a local preference policy caused bids from all vendors to increase by 1 percent, it would cost the city about $500,000 in extra vendor fees in 2008.
Commissioners meet at 6:35 p.m. today at City Hall, Sixth and Massachusetts streets.
Copyright 2018 The Lawrence Journal-World. All rights reserved. This material may not be published, broadcast, rewritten or redistributed. We strive to uphold our values for every story published.